Heart Healthy Valentine: Eat Berries, Drink and Be Fit! Here is a heart healthy formula that just might help save your heart and the one that you love!
February is Heart Month. Since heart disease is the No. 1 killer of women and men in the U.S., I thought I'd focus on prevention. After all, if you prevent heart disease, you're very unlikely to die from it.
Heart Healthy Research
A Harvard study says women who eat three or more servings of strawberries or blueberries a week can lower their risk of heart attack by 32 percent. The study also said grapes, eggplant and blackberries may work too. It's those flavonoids again. The antioxidants you find in red wine, dark chocolate, green tea, apple skin, etc. Rule of thumb: The darker the color, the more flavonoid content. They slow down your aging clock and prevent disease by keeping free radicals from damaging cells in your body.
Free radicals are incomplete molecules looking for an electron so they can complete and stabilize themselves. Sounds like something you'd hear in therapy. They steal an electron from a neighboring molecule, turning it into a free radical and setting off a chain reaction. They contribute to the aging process and a wide range of diseases.
We form them naturally when we breathe and metabolize. Free radicals don't wreak havoc with your body until you have too many of them. They can be formed by oxidative stress, like intense exercise, smoking and exposure to environmental toxins.
Enter the flavonoids. They give the free radicals one of their electrons and stop them in their tracks. They help prevent heart disease by stopping LDLs (bad cholesterol) from breaking down and forming plaque in your arteries.
Nowadays, you can get berries year round, and they are a perfect low-calorie food, alone, in yogurt, or sprinkled on your cereal. So let's have a few servings of berries, some eggplant, a glass of cabernet and maybe a square of dark chocolate for dessert. Not such a major lifestyle change and it came help you stay heart healthy too!
Since we are talking about prevention, how about stress?
A series of studies by Columbia University Medical Center says whether or not we perceive ourselves as stressed can be a measure of whether or not we'll have a heart attack in the future. So from now on, I'm not going to perceive myself as stressed. Yeah. Good luck with that.
Seriously: My clients who exercise regularly, particularly aerobic exercise, tend to think of themselves as being more relaxed. And they are more relaxed. Aerobic exercise releases endorphins, the body's natural tranquilizer, and they know they're getting the heart benefits of all that cardio. To get the maximum benefit from cardio exercise, most people should build up to 45 or more minutes at 60 to 80 percent of your max heart rate. If you're just starting out, you can ease in with a few minutes a day at a comfortable pace and add more as it gets too easy. But here's the rub: Aerobic exercise, because it requires so much oxygen, is an oxidative stressor. It produces free radicals.
People who exercise once in a while or really hard only on the weekend are more at risk for producing harmful levels of free radicals. But studies have found that people who exercise regularly tend to adapt and produce enzymes that create antioxidants minimizing free radicals' negative effect so that it helps them stay heart healthy.
So here's the formula to be heart healthy: Eat berries, drink wine and get regular cardio so you don't perceive yourself as stressed. It's an eclectic concoction, but I think it's tastier than one of those midnight vegetable smoothies. Don't you?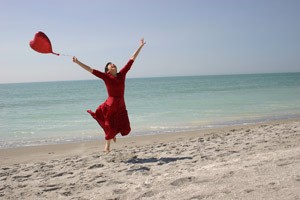 20 % OFF ALL DVDS TIL March 31,2019 
Put BEFAB AT CHECKOUT
LATEX EXERCISE RESISTANCE BANDS: 3 LEVELS: Light, Medium & Heavy For Strength Training & Sculpting SPECIAL PRICE: 9.95
NEW! MEMBERSHIP ON-DEMAND CLUB IS LIVE
JOIN! CLICK ON  MovingFreeWithMirabai
We have two types of Membership  
EASE-IN Beginners: 
6 starter workouts to ease you in. Start with just 5 minutes – when it feels too easy click on 10 minutes, then 15, then 20, and so on until you're comfortable doing 30 minutes. When you are comfortable with 30 minutes you are at Level 1. Then try any of our Level 1 workout videos
Pumping the Prime  
Gives you an easy to do, sustainable plan of action that address the major health issues people over 50 are facing. The info and exercises you need are all there, a mouse click away. You simply check the list for the problem(s) you need to work on. One click and you've got info on your issue and several structured workout plans to choose from. Another click, and you've got 24/7access to Mirabai's exercise video library with new titles coming all the time. She's taken the guesswork out of designing your attack on age onset health issues.
EASE INTO THE BEST SHAPE OF YOUR LIFE!
Follow Mirabai Holland: 
www.youtube.com/movingfreedvds
And for more info visit https://www.mirabaiholland.com