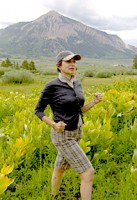 Starting a walking workout in September is a special experience. September is the perfect time to walk, and a walking workout is about as perfect a human exercise as we've got. It's a great combination. Beginning your walking workout in September is good because it's not too hot, not too cold, and there's lots to look at. And, doctors always want us to walk when they tell us to get some exercise. I wonder if they walk themselves. So your doctor should be very pleased when you call and say "I'm starting a walking workout program, what do you think"? Do check with your doctor to make sure you don't have any issues that will keep you from brisk walking, and then if all's good, get to it.
Besides getting a great cardiovascular workout you'll strengthen and sculpt your legs and butt. If you swing your arms you'll get some shoulder action too; all this while nature watching, or people watching if you're in the city. Start slowly and build up. American Heart Association recommends 150 minutes of walking per week
Vary Your Walking Workout
Try interval walking. Walk for 3 minutes at a moderate pace. Then walk faster for 1 minute.
Walking Workout Develops Core Strength
There's been plenty of buzz lately about core exercise and how a strong core, the abs, back, butt and upper thigh muscles, can keep you mobile into old age. There's a lot of truth to that. The core muscles hold you torso erect and promote good posture and general body strength. If you do it right, walking can strengthen your core and improve the way you walk at the same time.
A weak core makes you slouch and walking slouched messes up your gait and can even give you back injuries. Start by standing tall with your head over your shoulders, shoulders over your hips, hips over the feet, abs pulled in. If you're not used to it, it'll feel like work at first. But, try keeping that posture while you walk, even for 5 minutes at a time. It will become more and more comfortable. You'll start to realize it's the natural way for humans to stand and walk. Your gait will improve, your core will get stronger, you'll be less fatigued and you'll enjoy your walking workout in September more. And won't you look cool and snappy out there with that perfect gait.