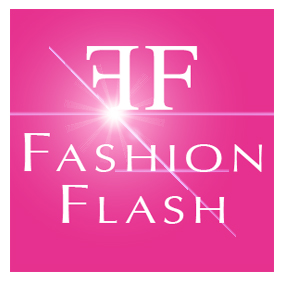 Our Fashion Flash host is Kari from Faboverforty.com
Kari gives women a more natural beauty solution that is effective and an alternative to more radical options. The rest of us Fashion Flash Bloggers have the latest Spring trends, products and info including diet, exercise, clothing, style, and skin care. Don't forget to share your thoughts with us.

Can Sleeping Less Equal Weight Gain
Eating fewer calories, exercising more and still having a hard time getting those extra pounds off? Here's a question for you: How's your sleep?
I for one, every time I travel, seem to gain a couple of pounds just when I want to look my best.
I noticed that I tend to sleep less and intermittently when I am on the road. Once I settle again in a place, my sleep gets more regulated and I am able to drop those pounds.
I've adjusted my sleep pattern, as I have gotten older to help myself sleep better. The earlier I get up in the morning the better chance I have of getting to sleep that night and staying asleep for a longer period of time. I'm more energized, and when I eat, I eat less and feel more filled.
Can Sleeping Less Equal Weight Gain
It turns out that there are many studies that indicate that sleeping less then 7 hours can increase body weight. One recent study with several pairs of twins, found that the twin who slept more than 9 hours was about half as likely to gain weight as the one that slept only 7.
Sleep deprivation affects your hunger urge. If you sleep less, you feel like eating more and you probably do. That's because not sleeping increases your body's level of gherlin, the hunger hormone and decreases leptin the "I'm full" hormone.
A sleep study in Finland with middle-aged adults who had sleep problems found that women had greater sleep related weight gains than men. Though men were also affected. The study indicated that it seems the fewer hours you sleep the more calories you tend to eat the next day.
If you want a good night sleep here's are some things to consider:
Exercise: Don't exercise too late in the day. So many of us go to the gym after work but it can keep you up at night. Late exercise can prevent the body from making sleep-inducing melatonin for several hours.
Caffeine: It can take 6 or more hours to wear off. Having that cup of coffee after dinner, even with a low fat dessert, may not be such a good idea.
Alcohol: A couple of drinks with dinner can wake you up in the middle of the night and make it hard to get back to sleep. I have a friend who swears by a glass or two of wine at lunch but never alcohol after 2pm. She says she sleeps like a baby at night. I think if I had a glass or two at lunch, I'd sleep like a baby at 2pm and be up for the night at 5.
Stress: And then there is our old buddy stress. We all have some level of stress and how we deal with it can keep us up at night. Getting yourself relaxed in quiet, dark, temperature controlled environment can relieve stress and induce a desire and ability to sleep.
So what's it going to be, wide awake at 3am or getting that beauty sleep and waking up lighter and brighter on your toes? Learning to get a good night's sleep is a process.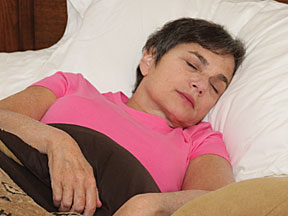 Don't stress over it, it may keep you up at night.
For more info on at home health and fitness programs please visit www.mirabaiholland.com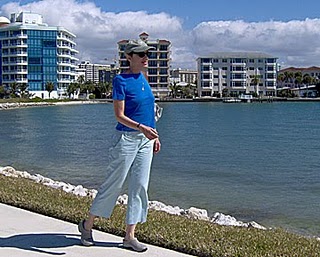 A too-thick waistline, especially paired with high levels of a particular fat in the blood called triglycerides can greatly increase your risk of developing coronary artery disease. Triglycerides are both produced by the body and ingested through the food you eat.
High triglyceride levels can increase your risk for heart disease and are more common among inactive people with larger waistlines. Normal triglyceride levels are below 150 mg/dL. The risk of developing coronary artery disease doubles when triglyceride levels are above 200 mg/dL.
Triglycerides are called the hidden fat because they are too often overshadowed by the highly publicized LDL bad cholesterol.
However triglycerides are above 200 mg/dL and "good" (HDL) cholesterol is below 40 mg/dL, a person is at four times the risk.
The good news is that a study at Duke University Medical Center has produced some surprising and encouraging results. Moderate aerobic exercise like walking a half hour at least five days a week can signicantly reduce the triglyceride levels in the blood as well as boost your HDL (good cholesterol). Burning 200 calories or so on that half hour walk doesn't hurt either.
The study also showed that more intense exercise did help with belly fat but produced only half the triglyceride lowering results.
So my recommendation is: consult your doctor, find your triglycerides level and get clearance to exercise.
If it is elevated and belly fat is not an issue do moderate aerobic exercise like brisk walking or cardio dance. If you also have extra belly fat, consider adding strength training exercise every other day to help your body burn more fat.
Don't over do it. Ease-in. Start with a few minutes a day of something fun. Pleasure is the key to sustainability.
Couple this with a low fat diet and moderate alcohol consumption and you've got a recipe for better quality of life and maybe even a longer one.