May is osteoporosis month and I can't say enough about this debilitating yet largely preventable bone disease.
By definition, osteoporosis is a disease that, over time, causes bones to become thinner, more porous and less able to support the body. Bones can become so thin that they break during normal, everyday activity.
I've written a number of articles about the importance of weight bearing exercise and a calcium and vitamin D rich diet in preventing osteoporosis. So today I'm focusing on FALL PREVENTION. So many osteoporotic fractures are caused by falls so anything that can prevent those falls should be on your radar.
An interesting fall prevention method that's been getting a lot of attention lately is using a Whole Body Vibration platform. Research by the Russian and American space programs has long suggested that a piezo-electric effect caused by vibrating the body strengthens muscles, and may prevent bone loss. A recent German study 'Erlangen Longitudinal Vibration Study (ELVIS) shows it can also greatly reduce falls.
You simply stand on the vibrating plate and shake for several minutes. How long and how vigorously you shake can be dialed to suit your personal body needs and fitness level.
Commercial versions of the vibration platform are available at gyms and rehab centers. Home versions are sold online and at sporting goods and health equipment stores. Prices for the home versions start at about $199.
And for traditionalist in all of us, it's true, simple balance exercises can go a long way towards reducing your chances of taking a serious fall.
Try this simple exercise:
Stand erect near a wall (in case you lose your balance) hands at your sides.
Slowly raise one foot a couple of inches off the ground while shifting your weight to your grounded foot.
When you've got your balance slowly raise your arms over your head and reach for the sky.
As you get more comfortable, try raising your held-up foot farther up until it's near the knee of your grounded leg.
*ELVIS STUDY: http://www.ncbi.nlm.nih.gov/pubmed/20306017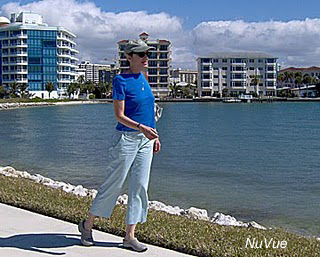 Triglycerides Your Hidden Fat:
Triglycerides:  A too-thick waistline, plus high levels of a fat called triglycerides in the blood can greatly increase risk of coronary artery disease. Triglycerides are both produced by the body and ingested through the food you eat.
High triglyceride levels can increase your risk for heart disease and are more common among inactive people with larger waistlines. Normal triglyceride levels are below 150 mg/dL. The risk of developing coronary artery disease doubles when triglyceride levels are above 200 mg/dL.
Triglycerides are called the hidden fat because they are too often overshadowed by the highly publicized LDL bad cholesterol.
However triglycerides are above 200 mg/dL and "good" (HDL) cholesterol is below 40 mg/dL, a person is at four times the risk.
The good news is that a study at Duke University Medical Center has produced some surprising and encouraging results.
Triglycerides: How Aerobic Exercise Helps
Moderate aerobic exercise like walking a half hour at least five days a week can signicantly reduce the triglyceride levels in the blood as well as boost your HDL (good cholesterol). Burning 200 calories or so on that half hour walk doesn't hurt either.
The study also showed that more intense exercise did help with belly fat but produced only half the triglyceride lowering results.
So my recommendation is: consult your doctor, find your triglycerides level and get clearance to exercise.
If it is elevated and belly fat is not an issue do moderate aerobic exercise like brisk walking or cardio dance. If you also have extra belly fat, consider adding strength training exercise every other day to raise your metabolism and help your body burn more fat.
Don't over do it. Ease-in. Start with a few minutes a day of something fun. Pleasure is the key to sustainability.
Couple this with a low fat diet and moderate alcohol consumption and you've got a recipe for better quality of life and maybe even a longer one.
For more info visit www.mirabaiholland.com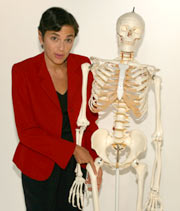 Nearly 30 years ago when I was in school, I wrote an exercise physiology paper on exercise and osteoporosis.
At that time there wasn't much research available. But even then, the studies I found on tennis players, astronauts, and bed rest pointed in the direction that weight-bearing exercise could help maintain the bone density you have and even promote bone growth. I was intrigued. I've followed the research over the years and even created an osteoporosis exercise program.
In working with my clients, I often hear the question "what's the difference between osteoporosis and low bone mass? (osteopenia) And what can I do about it?
Well to answer these questions, I have to start at the beginning.
Osteoporosis is a disease, which, over time, causes bones to become thinner, more porous and less able to support the body. Bones can become so thin that they break during normal, every day activity. Osteoporosis is a major health threat. 54 Million are at risk, nearly 80% are women.
Postmenopausal women are particularly at risk because they stop producing estrogen, a major protector of bone mass.
As we age some bone loss is inevitable. Women age 65 or men age 70 should get a bone mineral density test. If you have a family history of osteoporosis or other risk factors you may need a BMD much earlier.
The test is completely painless, non-invasive and takes only a few minutes.
It compares your bone mineral density to that of an average healthy young person. Your results are called your T score. The difference between your score and the average young person's T-score is called a standard deviation. (SD)

Here is how to interpret your T score:
Between +1 and –1: normal bone density.
Between -1 and -2.5: low bone density (osteopenia).
T-score of -2.5 or lower: osteoporosis.
Until recently it was thought that if you had low bone mass (osteopenia) you were well on your way to getting osteoporosis. But it's now known even at this stage bone loss can be slowed down, stopped and even reversed. You and your doctor will have a number of options depending upon your particular condition.
Many MDs like to start with a calcium and vitamin D rich diet coupled with weight bearing exercise. For many of us, that's all we need. Others will require medication and there are many bone-building medications available.
Remember it's never too early to start taking care of your bones. The more bone density you have as a young person the less likely to end up with osteoporosis later in life.