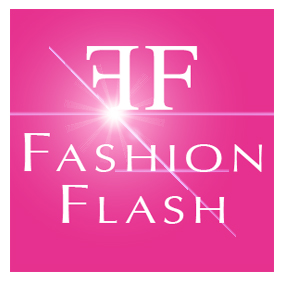 Today, Fashion Flash is hosted by Maryl and Caryl co-founders of the Second Lives Club. Their site is meant to be your guide and support system as you reinvent yourself in the second half of life. Experience the adventure together!
The rest of us Fashion Flash bloggers have brought you updates in fashion, beauty, fitness, and lifestyle. Join the discussion and let us know what you think!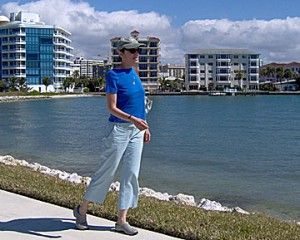 Here's a simple interval-walking program that will help you get into shape and won't break your bank account. You will need a watch. Start walking at a slow pace for the first 5 minutes to warm-up, help elevate your core body temperature and increase blood flow to your working muscles. Then pick up the pace for the next 3 minutes so you start to feel more effort but you can still carry on a conversation comfortably. Then pick up more speed for a 1-minute interval; either faster walking or a light jog. Then go back to your comfortable conversation pace for 3 minutes. Alternate between 3 and 1minute of faster walking intervals until you are able to sustain about 30 minutes 4-5 days a week.
For more on at home exercise programs for women over 40 please visit www.fabulousforever.com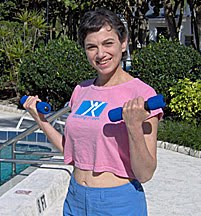 Arm flab exercises.
My inbox is trying to tell me something. I've gotten several versions of this question in the past week alone.
Q: I'm starting to feel that flabby arm anxiety again as it gets hotter. I don't want to face my sleeveless blouses with these 54 old arms a year flabbier than they were last year. Is there anything short of surgery for me to do? Are there any arm flab exercises I can do to firm me up?
A: Sedentary women in general and women at a certain age in particularly are faced with this problem every Summer. And it does get worst, as you get older.
In fact we can lose up to 40% of our muscle cells by the time we hit 70. This is called sarcopenia. When we lose muscle mass what's left over is flab. Weight resistance exercise can reverse this process and can help you regain some muscle you have lost.
Here are two easy arm flab exercises that target those problem areas in your upper arm.
Arm Flab Exercises
Bicep Curl for the Front Arm: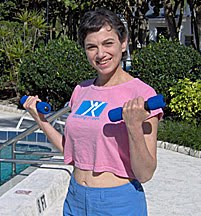 Grab a set up hand weights and stand erect with your feet about shoulder width apart. Weights down at your sides, palms forward. Remaining erect, bending only at your elbows bring the weights up towards you until they reach your shoulders.
Slowly return to starting position. Repeat 8-15 reps.
Pick a weight that will just barely allow you to complete the final rep in good form.
Triceps Extension for the Back of the Arm: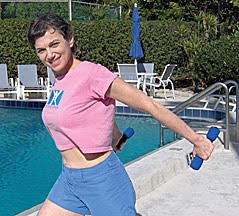 You will probably need a lighter weight for this exercise because those muscles are often weaker.
Stand erect, weights at your sides, palms in towards your thighs. Remaining erect step forward with one foot and slightly bend the knee. Keeping arms straight, bring both arms behind you just at or above waist height. You should feel the contraction on the back of your arms. Gently lower down to starting position.
Repeat 8-15 reps.
Do these arm flab exercises every other day. You should expect some soreness. It's common when you are building muscle. Doing the exercises every other day gives your muscles a chance to recover and grow. You should see results in about 3-4
weeks.
For more arm fab exercises visit www.mirabaiholland.com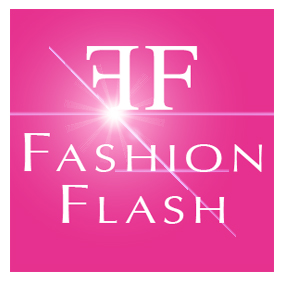 It's Fashion Flash Monday and our host today is Jackie from AgingBackwards.
Jackie emanates beauty and vitality. She shares her anti-aging natural secrets and tips with all of us women over 40. She is the real deal when it comes to fabulous!
This week the rest of us Fashion Flash bloggers give you a variety of ways to stay cool, be beautiful, healthy and on trend. Check us out!