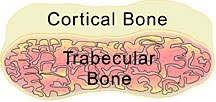 By definition, osteoporosis is a disease that, over time, causes bones to become thinner, more porous and less able to support the body. Bones can become so thin that they break during normal, everyday activity.
I've written a number of articles about the importance of weight bearing exercise and a calcium and vitamin D rich diet in preventing osteoporosis. So today I'm focusing on FALL PREVENTION. So many osteoporotic fractures are caused by falls so anything that can prevent those falls should be on your radar.
An interesting fall prevention method that's been getting a lot of attention lately is using a Whole Body Vibration platform. Research by the Russian and American space programs has long suggested that a piezo-electric effect caused by vibrating the body strengthens muscles, and may prevent bone loss. A German study 'Erlangen Longitudinal Vibration Study (ELVIS) shows it can also greatly reduce falls.
You simply stand on the vibrating plate and shake for several minutes. How long and how vigorously you shake can be dialed to suit your personal body needs and fitness level.
Commercial versions of the vibration platform are available at gyms and rehab centers. Home versions are sold online and at sporting goods and health equipment stores. Prices for the home versions start at about $199.
And for traditionalist in all of us, it's true, simple balance exercises can go a long way towards reducing your chances of taking a serious fall.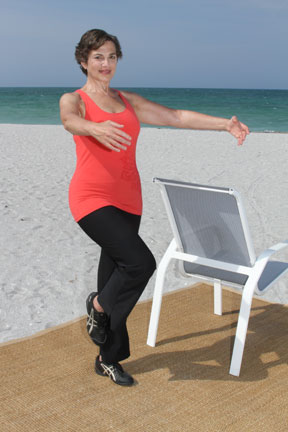 Try this simple exercise:
Stand erect near a chair or wall (in case you lose your balance) hands at your sides.
Slowly raise one foot a couple of inches off the ground while shifting your weight to your grounded foot. When you've got your balance slowly raise your arms in front of you and hold for 10 seconds.
As you get more comfortable, try raising your held-up foot farther up until it's near the knee of your grounded leg. More advanced, try closing your eyes as you balance.
GET STRONG, LIVE LONG! SHOP NOW GET 20% OFF MIRABAI'S DVDS PUT CODE: SUMMERFAB CLICK HERE
 Follow Mirabai Holland: 
www.youtube.com/movingfreedvds
And for more info visit http://www.mirabaiholland.com

We are filming for several hours a day starting at the crack of dawn. The weather is cooler but not for long. My only relief has been to strip off my workout clothes, which are almost pasted to my body, jump into a swimsuit and plunge into the pool. After about 45 minutes of laps back and forth I get an idea. What if I try some Aqua Ballet workout exercises in the water, holding on to the side of the pool? Doing an Aqua Ballet Workout in the water, while cooling off is not such a bad idea I'm thinking. So I try one of my on land favorites for my legs and butt. I like it! I can really feel it working. It may be even more effective with the water for added resistance. This Aqua Ballet Workout not only tones your lower body but it also helps to elongate your muscles while you are doing it. And because you are in the water, you are adding resistance to strengthen your legs and butt while at the same time using your core muscles to help keep your body upright and balanced.
Try this Aqua Ballet Workout to Tone Up Your Legs and Butt
Stand facing front, heels together, feet turned out. Hold on to the edge of the pool with your right hand. Slowly bend left knee, bringing foot up to right knee forming a triangle. Slowly stretch leg in front of body. Then bring foot back to the knee of the standing leg and return to the starting position. Repeat 4 times to the Front, Side, and Back.
Turn around and repeat exercise on the other leg holding on with your left hand. Enjoy this Aqua Ballet Workout!.
GET STRONG, LIVE LONG! SHOP NOW GET 20% OFF MIRABAI'S DVDS PUT CODE: SUMMERFAB CLICK HERE
 Follow Mirabai Holland: 
www.youtube.com/movingfreedvds
And for more info visit http://www.mirabaiholland.com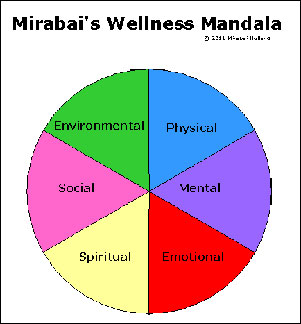 Life is a balancing act.
So I started thinking about wellness. What is wellness anyway?
It's the absence of disease. If you are not sick you are well.
But it's more than that isn't it? It's quality of life and for some it's a balancing act; the balance of all things. I like this balance concept so I dug out one of my favorite balancing act tools:
Balancing Act Tool
The Mandala: the wheel of life. I wrote down all the types of wellness I could think of and ended up with 6 categories that I stuck on my Mandala to enable us to live well.
Here they are:
Physical Wellness
· Taking care of your body, eat right, exercise
· Visit your doctor regularly
Mental Wellness
· Keeping an open mind and trying to see other's point of view
· Allowing your curiosity to take you to new places and learn new things.
Emotional Wellness
· Trying to keep a positive state of mind
· Cultivating self esteem
· Reaching out to others for support
Spiritual Wellness
· Recognizing your beliefs.
· Allowing your core values to direct your actions.
Social Wellness
· Developing positive inter-personal relationships at home and work
· Allowing yourself to give and receive love: to and from everyone that means that much to you including animals
· Participate in social situations; try not to stay on the sidelines.
Environmental Wellness
· Making your home environment peaceful, pleasant, safe and comfortable.
· Choosing an occupation and a workplace that doesn't drive you nuts.
· Try to have a positive impact on our natural environment.
Recycle more, pollute less.
When the wheel is in balance it spins evenly. When even one of these categories is out of whack, the whole wheel starts to wobble.
So as a certified health coach I respectfully suggest you get rolling, get your balancing act together so you can live well.
GET STRONG, LIVE LONG! SHOP NOW GET 20% OFF MIRABAI'S DVDS PUT CODE: SUMMERFAB CLICK HERE
 Follow Mirabai Holland: 
www.youtube.com/movingfreedvds
And for more info visit http://www.mirabaiholland.com