Weight management is learning to control portion size, eating a balanced diet, getting in touch with your hunger and exercising on a regular basis.
Summer into Fall is when many of us have a problem with weight management.
Exercise has always helped to burn calories, lose body fat and keep muscle tone, but exercise alone will not keep your weight in check. Eating only when you are truly hungry can help you stay on track. Many of us engage in emotional eating: we eat when bored, depressed angry or even happy. To curb this tendency we must reckon with our inner selves. This can be getting on a scale, putting on a pair of pants that used to fit, and writing down what we are putting into our mouths.
For me, weight management is a constant struggle but it is one I embrace and so can you. Remember, the real reason for food is to keep us alive and well.
Weight Management Techniques
Choosing healthful foods is integral to feeling good and possibly preventing diabetes, cancer and heart disease and numerous other health problems. Between fast food and vending machines, it's often a challenge to eat basic foods that are not prepared or processed with too much salt, sugar and preservatives. Yet a wealth of fresh vegetables, fruits, dried beans, whole grains and nuts are available if you just know what to look for and make time to prepare nutritious meals.
As we age, our immune systems become more vulnerable – especially if we are recovering from illness. The food and agriculture industries are allowed by the FDA to use a multitude of pesticides, antibiotics, hormones and even insect-based dyes to produce as much food as cheaply, and therefore profitably, as possible.
The movement toward organic foods and support for local farming in the U.S. has grown as more people become aware and concerned about the untested and unlabeled additives in our food supply. Although organic foods are often more expensive, the cost can be balanced by avoiding non-nutritious prepared foods – such as snack items, candy, sugary sodas and frozen meals – while choosing fresh produce, dried beans, whole grains and a limited amount of low fat dairy and lean meat and poultry.
Here is an important meal tip; eat a healthy breakfast. Why? Because it will give you energy to last through the morning so that you are not ravenous and prone to overeating at lunch. For the longest-lasting energy, balance three types of food in your breakfast: A serving of whole grains (a piece of whole wheat toast, a half-cup of oatmeal or a serving of whole-grain cereal per size listed on the package); two servings of fruits (which can include a glass of 100 percent juice) and a bit of low fat protein – such as yogurt, an egg, reduced-fat cheese, or skim milk on whole grain cereal. In calories and nutrition, it will beat a sugary, fatty pastry any day. Studies show that women who eat a healthy breakfast each day have an easier time maintaining a healthy weight.
Informative food-related web sites are:
Center for Science in the Public Interest (www.cspinet.org)
American Institute for Cancer Research (www.aicr.org)
USDA Food and Drug Administration (www.nutrition.gov)
Organic Consumers Association (www.organicconsumers.org)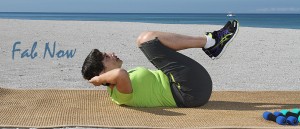 TAKE CHARGE OF YOUR HEALTH! SHOP NOW GET 15% OFF ALL MIRABAI'S PRODUCTS PUT CODE: FABNOW CLICK HERE
 Follow Mirabai Holland: 
www.youtube.com/movingfreedvds
And for more info visit http://www.mirabaiholland.com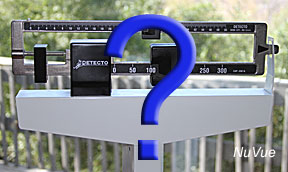 To weigh or not to weigh, that is the question. Whether 'tis nobler in the mind to suffer the slings and arrows of knowing one's outrageous weight, or to take arms against a sea of bulges by simply ignoring the scale and trying to eat less and exercise more. For some of us, the scale is a tool. For others, it's the enemy.
Some health and fitness professionals have made a compelling case for ignoring the scale, saying that measuring one's percentage of body fat is the most accurate way to track one's fitness level.
It indicates a healthy body composition, regardless of height and weight. I agree that you should know your body fat as a baseline for fitness and fatness.
Here are some body fat guidelines according to the American Council on Exercise:
Body Fat Percentage for Women:
Body Fat Percentage for Men:
So why bother weighing yourself at all? When you're trying to lose weight, it's important to use any indication you can get that your efforts are paying off. It can take a couple of weeks before you see any difference in body fat. Your weight will change more quickly. Besides, there are relatively inexpensive scales that give you both your actual weight and your percentage of body fat.
My personal prejudice is to weigh yourself at least once or twice a week. I do, and I find that facing my weight on a regular basis helps me stay motivated. Believe me, there have been times when I've dreaded getting on that scale. But I do it anyway because no matter what it says, I feel relief. I find it liberating. Why? Because now I know where I am and what I need to do next. It helps me maintain a healthy weight. And I have one of those scales that also measures fitness to fatness, so I am able to keep track of that at the same time. I check my body fat every week or two.
In my practice I have helped hundreds of people lose weight. And many of them initially fight me about getting on the scale; and I understand this because I know that terror. Part of the process of losing weight is to prepare oneself to do it. If you are not psychologically ready to lose, stepping on the scale can be a real turnoff and actually deter you from losing weight. But once you're ready, facing that number can jump-start your weight-loss program and keep you going.
I give my clients a baseline of their body fat percentage and get them to use the scale. Then we set up a diet and exercise plan. You can lose weight by diet alone. But dieting can reduce muscle mass along with fat. This becomes ever more important as we age. We can lose as much as 6 pounds of muscle tissue per decade as we age. And metabolism can slow down as much as 3 percent per decade. You can see that if left unchecked, you're on a slow boat to obesity. Adding an exercise program may be all you need to turn this process around. Cardio exercise burns calories, and strength training raises your metabolism and builds lean muscle mass while you are losing. Losing about 1 percent body fat a month and one to two pounds a week is considered safe and realistic. Here's the winning combination. Reduce calorie intake with diet, do cardio most days to burn calories, and strength train at least a couple of days a week to build muscle mass and increase metabolism.
So, I've made my case for using the scale as a tool, and I hope you'll try it when you are ready. Regardless, to be or not to be at a healthy weight should not be in question.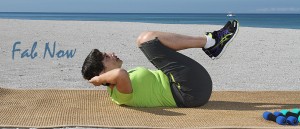 GET STRONG, LIVE LONG! SHOP NOW GET 15% OFF ALL MIRABAI'S PRODUCTS PUT CODE: FABNOW CLICK HERE
 Follow Mirabai Holland: 
www.youtube.com/movingfreedvds
And for more info visit http://www.mirabaiholland.com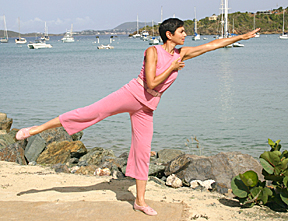 Chronic stress. It's everywhere. If you live and work on this planet it's almost impossible to avoid.
Feeling stressed? Me too!
Today I'm writing about how to get rid of chronic stress and suggest some easy ways to get that burden off your back.
To get us in the mood, let's start with a short, guided meditation and stretch video to help reduce chronic stress. Try it with me and see for yourself. You can do this at home or at your desk at work. (I use my ear buds at work.)

Now that you're a believer, lets have a look at
chronic stress
and how to get rid of it. (By the way, as you get better at becoming relaxed, you can keep your eyes open while watching the waves on the video.)
Stress has been around since the beginning of time. It started as the fight-or-flight response when early humans confronted a life-threatening situation. In that situation, stress hormones, adrenaline and cortisol, are produced. Your blood vessels constrict, blood pressure goes up, pupils dilate, heart rate quickens, and breathing becomes more rapid. The body is preparing itself to do battle or run. This response is essential in times of acute danger. But problems at work, crying kids, traffic, you name it can trigger the same response.
Given the pressures of daily life, chronic stress itself has become a life-threatening situation. It can cause a host of health problems including headaches, gastrointestinal issues, insomnia, trouble concentrating, anxiety, depression, increased body weight, high blood pressure and heart disease.
We can't eliminate the stress. But we can relieve the fight-or-flight response that sends our bodies into danger mode. And we can cultivate a relaxation response over time that will reduce our physiological stress reaction.
So what do we do about chronic stress? How do we get rid of it?
How? Relax. That's what my first yoga teacher used to say when I was all bent up in the pretzel pose with a grimace on my face. And, like that meditation you just did, it actually worked. Once I was able to relax, I was stress-free even in the pretzel pose.
Seriously, daily conscious relaxation exercises can make real difference in the way your body responds to stress. Dr Herbert Benson coined the phrase "relaxation response" in his book by the same name in 1975.
Since then he and others have conducted numerous studies, including a recent one at the Benson-Henry Institute for Mind/Body Medicine, that have detailed the body's intricate positive response to conscious relaxation exercises. In a nutshell, the relaxation response has the opposite effect of fight-or-flight. It engages the parasympathetic nervous system to counteract the effects of stress. You experience a feeling of deep relaxation and well being. And if you practice relaxation regularly you'll feel better and help yourself avoid those stress related health issues. That's how we get rid of chronic stress.
Meditation is just one of an almost infinite number of ways to consciously relax. Virtually anything that takes your attention away from your daily grind and makes you concentrate on just one thing can work. Doing the dishes, aerobic exercise, yoga, stretching, golf, playing a musical instrument, casting a fishing rod, playing with a cat, almost anything can work if you pay attention to only that and clear your mind. I'm partial to exercise because I get the benefits of a workout as well as the relaxation. It's my mantra. It's what I do to get rid of chronic stress.
Dr. Benson suggests you practice some form of conscious relaxation for 10 to 20 minutes every day to get rid of chronic stress in the long-term.
But what if you're pressed for time? (Pressed rhymes with stressed.)
Reduce Chronic Stress with this little exercise.
Sometimes you only need a few seconds and you feel a lot better.
Sit down and close your eyes. (If you're on the street, duck into a doorway, stand and keep your eyes open and one hand on your purse.)
Let your muscles relax. Concentrate on your breathing.
Breathe in and hold your breath for one second, count one one hundred thousand, and breathe out.
Breathe in again a little deeper and hold for two seconds — one one hundred thousand, two one hundred thousand — breathe out.
Breathe in deeper and hold for three, then four, then five seconds.
When you get to around three seconds of breath holding, your stress level should start to drop and your mind should start to clear itself of thoughts.
After five, you should feel pretty good. This works well for me particularly in moments of acute stress.
That one worked too didn't it. I hope concentrating on reading this helped you reduce your stress and I hope you'll make conscious relaxation a part of your life.
It's a lifestyle change that's easy to make because it feels so good when you do it.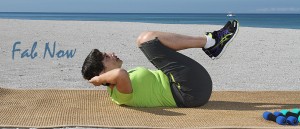 GET STRONG, LIVE LONG! SHOP NOW GET 15% OFF ALL MIRABAI'S PRODUCTS PUT CODE: FABNOW CLICK HERE
 Follow Mirabai Holland: 
www.youtube.com/movingfreedvds
And for more info visit http://www.mirabaiholland.com