Cardio Dance: Healthy Heart, Healthy Mind!
I became interested in cardio dance and memory several years ago when my older students began to tell me that their memories seemed to improve after they took my class.
I was teaching mostly cardio dance in those days. I started with simple steps and built up to a pretty complex routine.
There has to be a connection I thought, between the physical movement, making your brain learn this routine, and improved memory.
I'm no scientist but I was curious. So I started to break it down.
What I was having people do is learn short phrases of movement and then link them together. The cardio dance routine required them to move forward and back, side to side, remember specific steps; and stay in rhythm.
This was a real challenge for many of my students who had never done anything like this before. As they got more proficient, the class became a social gathering; because of this shared experience.
My students felt energized afterwards, not exhausted. They told me that besides getting a good body workout they were getting a memory workout as well. They said they could actually remember things better.
I wondered if there was science to support our anecdotal experience.
I contacted a couple of local Alzheimer's specialists (there was no internet back then) and they told me – you're probably right but there weren't any specific studies on this more than 20 years ago.
Even now the research is not conclusive. But, technology in the last 15 years has allowed science to discover a lot more about the brain.
Vascular memory loss has been linked to heart disease and cardio fitness is a major factor in preventing and managing that issue. Aerobic exercise increases the amount of oxygen supplied to the brain improving mental function. Cardio fitness has been shown to reduce loss of brain cells in older adults.
A study of 1,449 older adults shows those who in middle age exercised vigorously enough to perspire and breathe hard for 20 to 30 minutes at least twice a week reduced their risk of later developing Alzheimer's disease by about 60 percent.*
But cardio is just part of the equation.
Research published in the New England Journal of Medicine suggests that certain types of dance, particularly with routines to learn and remember, may help prevent age-onset memory loss and diseases like Alzheimer's. "…. cognitive activity may stave off dementia by increasing a person's "cognitive reserve." **
And a study conducted at the Karolinska Institute in Stockholm, says activities that combined mental and social as well as physical stimulation offered the greatest protection against dementia***
Activity is the active word. Be physically active, mentally active and socially active, preferably all at once. Taking a Cardio Dance class or getting together with friends to do a Cardio Dance DVD is a good place to start. And to this day, when I start my cardio dance class I say,
"It's time to workout our hearts and minds!"
*Rovio, Suvi; Kareholt, Ingemar; Helkala, Eeva-Liisa; Viitanen, Matti; Winblad, Bengt; Tuomilehto, Jaakko; Soininen, Hilkka; Nissinen, Aulikki; and Kivipelto, Miia. "Leisure-time physical activity at midlife and the risk of dementia and Alzheimer's disease." The Lancet Neurology; published online Oct. 4, 2005.
** Dr Joe Verghese, lead author of study conducted at Albert Einstein College of Medicine in New York, N Engl J Med, 2003; 348:2508-2516.
***Karp, Anita; Paillard-Borg, Stephanie; Wang, Hui-Xin; Silverstein, Merrill; Winblad, Bengt; and Fratiglioni, Laura. "Mental, Physical and Social Components in Common Leisure Activities in Old Age in Relation to Dementia: Findings from the Kungsholmen Project." Presented at the Alzheimer's Association 9th International Conference on Alzheimer's Disease and Related Disorders, Philadelphia, Penn., July 17 – 22, 2004. Abstract published in Neurobiology of Aging, July 2004, Vol. 25, S2: p. S313.http://www.ncbi.nlm.nih.gov/pmc/articles/PMC3761497/
Compared with the control group, the exercise group significantly improved in verbal fluency (p = 0.048), word list delayed recall (p = 0.038), word list recognition (p = 0.007), and total CERAD-K score (p = 0.037)
Metabolic syndrome (MS) is associated with an increased risk of cognitive impairment.

Aerobic exercise improves cognitive function in elderly people and contributes to the prevention of degenerative neurological disease and brain damage. Dance sport is a form of aerobic exercise that has the additional benefits of stimulating the emotions, promoting social interaction, and exposing subjects to acoustic stimulation and music.

In the present study, dance exercise for a 6-month period improved cognitive function in older adults with MS. In particular, positive effects were observed in verbal fluency, word list delayed recall, word list recognition, and the total CERAD-K score.

Our data suggest that the implementation of dance exercise programs may be an effective means of prevention and treatment of cognitive disorders.

http://journal.frontiersin.org/article/10.3389/fnagi.2013.00075/abstract
For more info on Women over 50 Health and Fitness and at home exercise programs for  visit www.mirabaiholland.com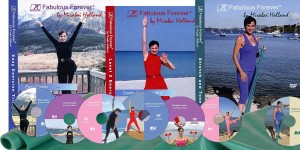 GET STRONG, LIVE LONG! SHOP NOW GET 25% OFF ALL MIRABAI'S PRODUCTS PUT CODE: BEFAB CLICK HERE
 Follow Mirabai Holland: 
www.youtube.com/movingfreedvds
And for more info visit http://www.mirabaiholland.com

Heart Healthy Valentine: Eat Berries, Drink and Be Fit! Here is a heart healthy formula that just might help save your heart and the one that you love!
February is Heart Month. Since heart disease is the No. 1 killer of women and men in the U.S., I thought I'd focus on prevention. After all, if you prevent heart disease, you're very unlikely to die from it.
Heart Healthy Research
A Harvard study says women who eat three or more servings of strawberries or blueberries a week can lower their risk of heart attack by 32 percent. The study also said grapes, eggplant and blackberries may work too. It's those flavonoids again. The antioxidants you find in red wine, dark chocolate, green tea, apple skin, etc. Rule of thumb: The darker the color, the more flavonoid content. They slow down your aging clock and prevent disease by keeping free radicals from damaging cells in your body.
Free radicals are incomplete molecules looking for an electron so they can complete and stabilize themselves. Sounds like something you'd hear in therapy. They steal an electron from a neighboring molecule, turning it into a free radical and setting off a chain reaction. They contribute to the aging process and a wide range of diseases.
We form them naturally when we breathe and metabolize. Free radicals don't wreak havoc with your body until you have too many of them. They can be formed by oxidative stress, like intense exercise, smoking and exposure to environmental toxins.
Enter the flavonoids. They give the free radicals one of their electrons and stop them in their tracks. They help prevent heart disease by stopping LDLs (bad cholesterol) from breaking down and forming plaque in your arteries.
Nowadays, you can get berries year round, and they are a perfect low-calorie food, alone, in yogurt, or sprinkled on your cereal. So let's have a few servings of berries, some eggplant, a glass of cabernet and maybe a square of dark chocolate for dessert. Not such a major lifestyle change and it came help you stay heart healthy too!
Since we are talking about prevention, how about stress?
A series of studies by Columbia University Medical Center says whether or not we perceive ourselves as stressed can be a measure of whether or not we'll have a heart attack in the future. So from now on, I'm not going to perceive myself as stressed. Yeah. Good luck with that.
Seriously: My clients who exercise regularly, particularly aerobic exercise, tend to think of themselves as being more relaxed. And they are more relaxed. Aerobic exercise releases endorphins, the body's natural tranquilizer, and they know they're getting the heart benefits of all that cardio. To get the maximum benefit from cardio exercise, most people should build up to 45 or more minutes at 60 to 80 percent of your max heart rate. If you're just starting out, you can ease in with a few minutes a day at a comfortable pace and add more as it gets too easy. But here's the rub: Aerobic exercise, because it requires so much oxygen, is an oxidative stressor. It produces free radicals.
People who exercise once in a while or really hard only on the weekend are more at risk for producing harmful levels of free radicals. But studies have found that people who exercise regularly tend to adapt and produce enzymes that create antioxidants minimizing free radicals' negative effect so that it helps them stay heart healthy.
So here's the formula to be heart healthy: Eat berries, drink wine and get regular cardio so you don't perceive yourself as stressed. It's an eclectic concoction, but I think it's tastier than one of those midnight vegetable smoothies. Don't you?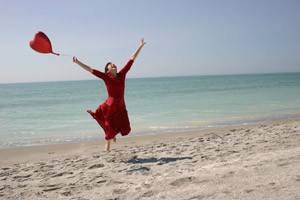 VALENTINE SPECIAL! Put BEFAB in at Checkout and Get 25% Off All Mirabai Holland Exercise Videos! Good Until MARCH 1, 2016
EASE INTO THE BEST SHAPE OF YOUR LIFE!
Follow Mirabai Holland: 
www.youtube.com/movingfreedvds
And for more info visit http://www.mirabaiholland.com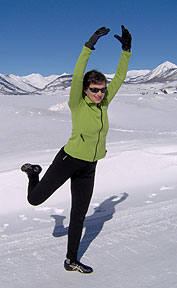 Now that the weather is getting colder and the days are getting shorter, I find myself as you may too, for no apparent reason, feeling a little blue. So I dust off my sneakers and get ready to move because I know cardio exercise improves mood.
Research shows that cardio exercise improves mood because it increases levels of serotonin and endorphins in the brain. These are important neurochemical transmitters, which help to elevate and stabilize your mood.
In fact one of the known causes of depression is a lowered level of serotonin. Aerobic exercise can be as effective as medication for relieving mild to moderate depression in many cases.
More Reasons Why Cardio Exercise Improves Mood
There is more to cardio  exercise than serotonin and endorphins. It helps lower adrenaline, a chemical associated with stress to help promote relaxation. And as you become more fit you feel better about how you look and feel. This can give you a positive outlook in general. Try some easy aerobics. You may just cardio dance your troubles away. I make sure I'm exercising aerobically most days of the week, at least for 30-60 minutes. I not only feel my spirits lift while I'm exercising but for many hours afterwards.
 Are You Depressed?
The standard symptoms for depression are:
Persistent feelings of sadness or "emptiness"
Sense of hopelessness, worthlessness, and guilt
Inability to enjoy ordinary pleasurable activities, including sex
Noticeable change of appetite, possibly accompanied by significant weight loss or weight gain
Shifts in sleeping patterns, such as insomnia or sleeping too much
Difficulty concentrating, persistent irritability, excessive crying
Preoccupation with thoughts of death or suicide
Decreased energy, fatigue
Persistent aches and pains
Many things can cause depression. They range from some medications to low levels of light during the winter months. Alcohol and a poor diet, as well as inherited predisposition, can lead to the condition as well. Before you decide on asking your doctor for an anti-depressant prescription, adopt the healthy lifestyle habits of a nutritious diet, regular exercise and enough sleep. If things don't improve, of course, seek medical help.
So try my take on the old Arlen & Koehler song lyric that Judy Garland sang, "forget your troubles, come on get happy" you can exercise your blues away.
For more info on women health and fitness and at home exercise programs for women visit www.mirabaiholland.com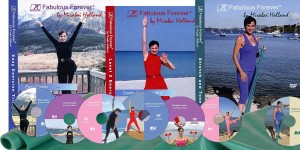 GET STRONG, LIVE LONG! SHOP NOW GET 25% OFF ALL MIRABAI'S PRODUCTS PUT CODE: BEFAB CLICK HERE
 Follow Mirabai Holland: 
www.youtube.com/movingfreedvds
And for more info visit http://www.mirabaiholland.com