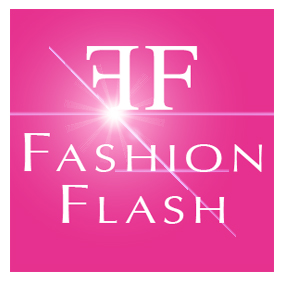 Fashion Flash is hosted today by Caryl & Maryl of Second Lives Club, here to help you plan and execute your next life the one that's the Real You. Click in for Insight and Inspiration. All of us Fashion Flash Bloggers are here for you with everything Fashion, Beauty, Health & Fitness, and Retail Therapy. Happy Monday.
ASK MIRABAI Q & A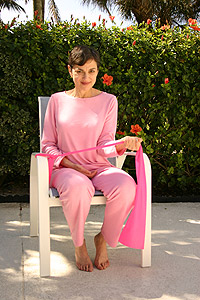 Q: l've recently hurt my left shoulder. My doctor said it was a rotator cuff injury. I went through physical therapy but my shoulder still hurts me. My doctor wants me to do some post-rehab exercise to continue to rebuild the muscles.
What exercises can I do at home? And are there any exercises I should avoid?
A: Rotator cuff injuries can take a long time to heal. While your shoulder still hurts don't do any movements with your arms higher than shoulder level. Once you get clearance from your doctor, you can try this classic exercise to help strengthen that area. lt's called external rotation.
Get a resistance band and sit in a chair with arms. Tie one end of the band to the right arm of the chair. Sit up straight facing forward. Hold your left arm in front of you, bent at 90 a degreeangle, palm up. Grab the band in about the middle. Keep your elbow close to your side but not touching. Pull the band laterally away from your body while exhaling. Hold for 5 seconds and gently release. start with 1 or 2  and build up to 8-12 repetitions over a couple of weeks. If you don't have a resistance band, use a towel or scarf.
Please send your Health & Fitness Questions to askmirabai@movingfree.com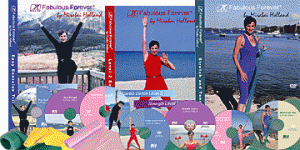 GET 15% OFF ALL VIDEOS, EQUIPMENT & T-SHIRTS PUT IN FABHOLIDAY AT CHECKOUT. GOOD UNTIL JANUARY 1 2014 at www.mirabaiholland.com

To View All Products: Click Here
Body Type
Whether you are a baby boomer just beginning to exercise, getting back to exercise or wanting to refine your exercise routine, your body type should play a role in how you exercise.
If you eat right and exercise religiously, you can transform that body of yours into the perfect shape, right? Well, not exactly.
The truth is, there is no perfect shape except in our dreams. Any of the women you'd gladly trade bodies with will tell you about the parts they hate, and the parts they constantly work on. Genetics has determined us all to be basically one of three body types. You made be one of these or a combination. They are: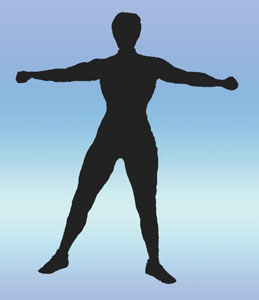 Mesomorph:
Thick bones and generally muscular physique. It is easier to develop muscle and the look of a body builder. Meso's muscles are shorter and tend to be bulkier. Great for heavy work and bodybuilding. Best type for sports that require quickness and strength like tennis. Not as naturally suited to long distance endurance sports like marathon running. Also, tends to be less flexible; stretching can help.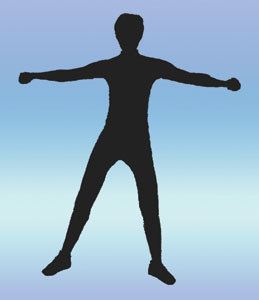 Ectomorph: Slender, thinner, longer bones, more difficult to build muscle mass but easy to sculpt a model-like body. Ecto's muscles fibers are longer and well defined.  Best for endurance and cardiovascular activities like aerobics, long distance running, or swimming. Ecto's are generally more fragile and more prone to injury in contact sports.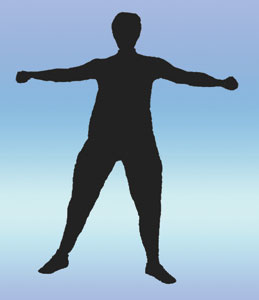 Endomorph: Rounder or more pear shaped body. Easy enough to build muscle but more tendency to gain and retain body fat, which often obscures musculature. This body type needs constant physical activity to maintain a healthy weight and an attractive physique. However, because of the uneven distribution of body fat, endo's can be more prone to lower body injury. Be careful with activities like high impact aerobics.
Healthy holiday treats. Really? We all seem to suspend our healthy eating habits during the holidays. Maybe rightly so. There are so many delicious temptations. Go ahead I say. The holidays come but once a year. However, not all treats are created equal. Here are three healthy holiday treats to add to add to your list with a little less guilt.
HEALTHY HOLIDAY TREATS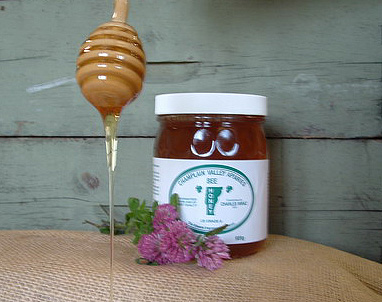 Great Tasting Honey  Champlain Valley Apiaries, Middlebury, Vermont has been producing high quality honey since 1931. Their honey is extracted from blossoms of clover and alfalfa and comes in crystallized and liquid form. Their crystallized honey retains all its vitamins, and nutrients because it is neither heated nor filtered. And the flavor is wonderfully light and delicate making it a perfect ingredient to use in cooking or to simple spread on a piece of whole grain toast. And I like the liquid in my cocoa.
For an extra health boost try Charles' Royal Blend, a combination of crystallized honey, 10 grams Bee Pollen, and 10 grams of Royal Jelly.
Available online at www.champlainvalleyhoney.com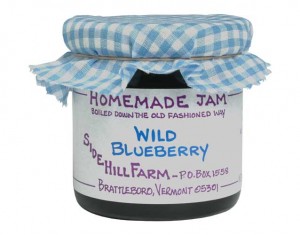 Deliciously Pure Handmade Jams & Preserves
Side Hill Farm, Brattleboro, Vermont produces all their jams & preserves with small batches of fruit, sugar and nothing else. There are no preservatives, pectin or other thickeners.  There's just enough sweetness so as not to camouflage the fresh taste of the fruit. It comes through strong and pure whether you put some into your yogurt or just eat it plain for a quick healthy treat.  There are many wonderful flavors to tickle your palate. Wild Blueberry, Blackberry, Apricot Orange Marmalade, and Strawberry are available online at http://www.sidehillfarmjam.com
For more exotic flavors like Mango Habanero, Hot Red Pepper or Cinnamon Pear call 1-802-254-2018.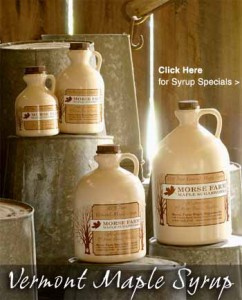 Morse Farm Maple Sugarworks                   200 Year Old Maple Syrup? Not exactly. But Morse Farms, Montpelier, Vermont has been making its Maple Syrup for 200 years. They are part of the reason why Vermont Maple Syrup is the standard by which all syrups are judged. "We think you can taste eight generations of experience in our products." Their 100% pure Maple syrup is rich in calcium, potassium, B vitamins and niacin. It comes in 4 different grades of syrup from light to full body taste: Vermont Fancy Grade, Grade A Medium Amber, Grade A Dark Amber, and Grade B. I dribble it on my cereal in the morning and use it in my baking.
Available online at www.morsefarm.com 
BTW I don't having any stock or financial interest in any of these companies. I just like this stuff.
And, after indulging, burn some of  those calories off with one of my workouts. Check them out at www.mirabaiholland.com 
Happy Holidays!
Send YOUR favorites to askmirabai@movingfree.com