Here is strength workout without to jump start your exercise program this Spring. You can enjoy the weather while getting leaner and stronger with this easy strength workout. No equipment necessary!

Take a look at this easy strength workout video!
And here are all the exercises written out!
Strength Workout Exercises
Here are five easy exercises to tone you up; no equipment necessary. Try doing them every other day. For the first three start with eight reps and build up to 16. For the last two (isometric exercises) hold for 10 seconds and build up to 30 seconds. With all these exercises, remember to exhale on the exertion.
In a matter of a few weeks you should feel your body getting stronger and see it get shapelier.
Warm-up by taking a 10-minute walk. By the tenth minute, it should be brisk enough for you to just barely carry on a conversation.
Stop at a wall, a tree or a fence, and do these five exercises: two for your upper body and three for your lower.
Standing Push-ups: Stand facing a surface, with legs hip width apart and place hands shoulder width apart. Keeping your body straight, lower yourself down to the surface and then push back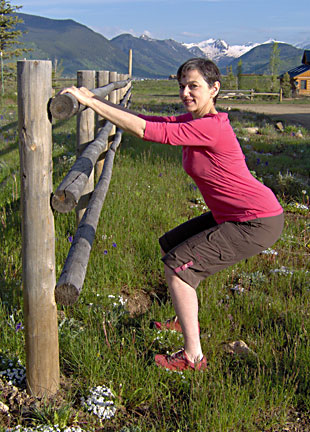 SQUATS: Face surface, legs hip with apart. Hold on for balance. Shift weight back into heels. Keeping back straight, abs pulled in; gently bend at the knees and squat to about a 90-degree angle. Hold for a moment, then, using just your leg muscles, return to an upright position.
Muscles worked: Front of thigh (Quads), Back of thigh, (Hamstrings) Buttocks, Abs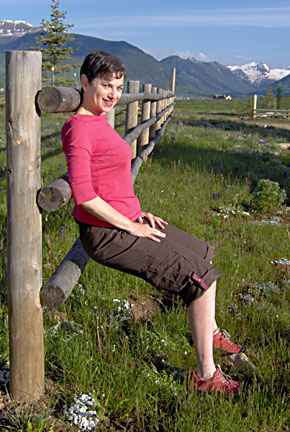 Wall Sit: Stand against surface for back support. Holding on as needed for balance, slide down to a sitting position against wall, knees at about a 90-degree angle. Pull your abs in and hold for 10 to 30 seconds.
Muscles worked: Thighs and Abs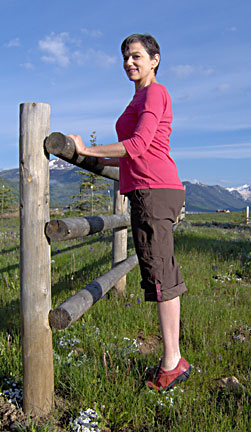 Calf Raises: Face surface and hold on for balance. With feet together pointing straight ahead, slowly lift your body up on to your toes, while tightening calf, abs and buttocks muscles. Then slowly lower yourself back down again. Muscles worked: calves, abs, and buttocks.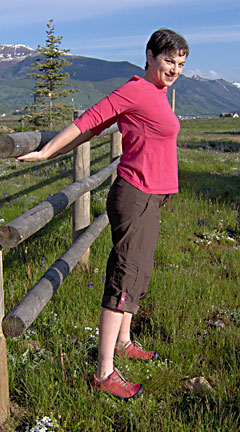 Upper Back Squeeze: Stand with your back to the surface, feet shoulder width apart.  Place hands behind you on surface. Straighten your arms behind you and squeeze your shoulder blades together. Hold for 10 to 30 seconds.
Muscles worked: Back, Shoulders, Back of arms (Triceps)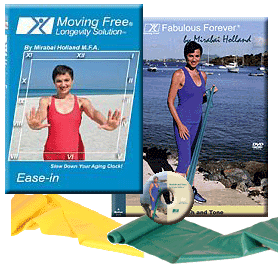 EASE IN, BECOME MOBILE, GET STRONG, LIVE LONG!  
PUT Fit4Spring at checkout and  get 15% off
SPRING INTO ACTION VIDEO & EXERCISE KIT SPECIALS
For more info on at home exercise programs visit www.mirabaiholland.com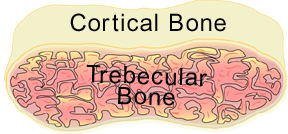 Bone healthy Diet? EEK! One more thing to worry about? What ever happened to "these are our golden years"?. Sounds like more bad news but it's not. True, our bodies can lose up to 40% of their bone mass in the 10 years following menopause. And true, if we don't do something we could easily end up with osteoporosis. But also true, the fix for this is both easy and delicious.
It's important to get enough calcium, Vitamin D in your bone healthy diet.  As we age  bodies become less efficient at absorbing these nutrients.
Here are some recommendations.
If you're 50 or over you should make sure you're getting a total calcium intake of at least
1200 milligrams daily and a Vitamin D intake of at least 800 to 1000 units daily.
Here are some sources of dietary calcium:
 Dairy Products including milk, yogurt and cheese
Nuts such as almonds and various green vegetables such as broccoli
 Fish with bones such as sardines, and mackerel and calcium fortified juices and cereals.
So, yogurt with fruit, almonds and maybe even a little cereal sounds like lunch. So does a salad with sardines, and a little raw broccoli. How about a nice piece of fish with a smaller salad. You might try some cheese and fruit with a glass of fruit juice. OK, wine. You get the idea. Get your calcium from food and you don't have to take supplements. But if you do, most people have a better time digesting calcium citrate than calcium carbonate, but they both work fine.
Sources of Vitamin D include:
Fatty fishes such as salmon and mackerel and Vitamin D enriched milk, juices and cereals.
Although your skin can make vitamin D when exposed to sunlight, sun block prevents vitamin D production.
By now you're making up your own healthy bones recipes so I don't have to suggest a Salmon, mackerel, milk, fruit juice and cereal smoothie do I?
But if you're like most people and wear sun block and don't get enough D in your diet you'll need to take a supplement to get your 800-1000 units of Vitamin D.
MORE BONE HEALTH DIET DO's
Research suggests nutrients such as magesium, potassium, Vitamins A, K & C found in certain vegies and fruits may help foster better bones. It is recommended to eat about 12 ounces of fruit and 16 ounces of vegies daily.
Here is a list for your concoctions:
Magesium include: Raisins, potatoes, sweet potatoes, plaintains, squash, artichokes, beet and collard greens.
Potassium include: Oranges, orange juice, bananas, prunes, papaya, avocados and tomatoes.
Vitamin A: Mangoes, cantaloupe, carrots, sweet potatoes and spinach
Vitamin K: Spinach, brussels sprouts, cabbage, kale, collard, turnip and mustard greens.
Vitamin C: Oranges, pineapples, payayas, grapefruits, lemons, strawberries, red and green peppers, broccoli and brussel sprouts and cauliflower.
BONE HEALTHY DIET NO's
One bit of bad news is too much alcohol or caffeine can add to bone loss; and soft drinks particularly colas that have both caffeine and phosphorous (bad for your bones) may be a double whammy.
So that's my quickie eating for your bones report. Don't try that smoothie; it's nasty.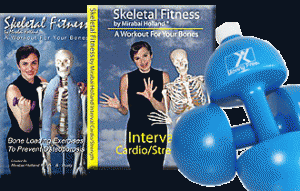 EASE IN, BECOME MOBILE, GET STRONG, LIVE LONG!  
PUT Fit4Spring at checkout and  get 15% off
SPRING INTO ACTION VIDEO & EXERCISE KIT SPECIALS
For more info on at home exercise programs visit www.mirabaiholland.com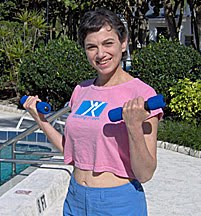 Arm flab exercises.
My inbox is trying to tell me something. I've gotten several versions of this question in the past week alone.
Q: I'm starting to feel that flabby arm anxiety again as it gets hotter. I don't want to face my sleeveless blouses with these 54 old arms a year flabbier than they were last year. Is there anything short of surgery for me to do? Are there any arm flab exercises I can do to firm me up?
A: Sedentary women in general and women at a certain age in particularly are faced with this problem every Summer. And it does get worst, as you get older.
In fact we can lose up to 40% of our muscle cells by the time we hit 70. This is called sarcopenia. When we lose muscle mass what's left over is flab. Weight resistance exercise can reverse this process and can help you regain some muscle you have lost.
Here are two easy arm flab exercises that target those problem areas in your upper arm.
Arm Flab Exercises
Bicep Curl for the Front Arm: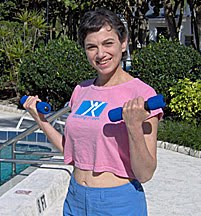 Grab a set up hand weights and stand erect with your feet about shoulder width apart. Weights down at your sides, palms forward. Remaining erect, bending only at your elbows bring the weights up towards you until they reach your shoulders.
Slowly return to starting position. Repeat 8-15 reps.
Pick a weight that will just barely allow you to complete the final rep in good form.
Triceps Extension for the Back of the Arm: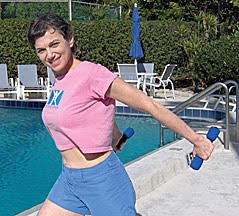 You will probably need a lighter weight for this exercise because those muscles are often weaker.
Stand erect, weights at your sides, palms in towards your thighs. Remaining erect step forward with one foot and slightly bend the knee. Keeping arms straight, bring both arms behind you just at or above waist height. You should feel the contraction on the back of your arms. Gently lower down to starting position.
Repeat 8-15 reps.
Do these arm flab exercises every other day. You should expect some soreness. It's common when you are building muscle. Doing the exercises every other day gives your muscles a chance to recover and grow. You should see results in about 3-4
weeks.
For more arm fab exercises visit www.mirabaiholland.com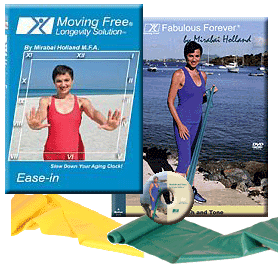 EASE IN, BECOME MOBILE, GET STRONG, LIVE LONG!  
PUT Fit4Spring at checkout and  get 15% off
SPRING INTO ACTION VIDEO & EXERCISE KIT SPECIALS