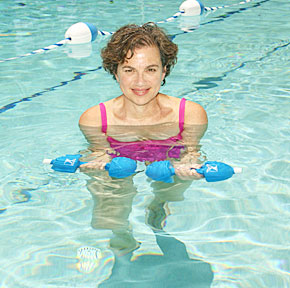 Here's a question about Arthritis Exercises.
Recently, I got a question from a woman who said, "The arthritis in my hips has progressed to the point where I'm really feeling it after my half hour walks. I want to stay mobile as I age. Are there any Arthritis exercises that will help me do this?"
It so happens, my husband also has osteoarthritis in his hips and I have been helping him with a couple of gentle stretches after his treadmill workouts.
Arthritis Exercises: Land
Here are two exercises that flex and extend the hip as well as stretch the front and back of your thigh muscles.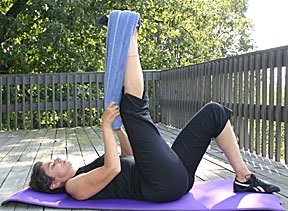 1. Lie on your back with one knee bent with your foot firmly on the floor to help support your back. Wrap a towel around the arch of your other foot. Hold the ends and pull back as you extend the leg towards the ceiling flexing your foot. Hold for 10-30 seconds. Feel the stretch in the back of the thigh (hamstring) and in your hip. Repeat on the other leg.

2. Lie on your side with both knees bent Take your top hand and grab your top foot at the ankle. Tilt your pelvis forward and pull in your abs as your bring the ankle towards your buttocks. Hold 10-30 seconds. Feel the stretch in the front of your thigh (quadriceps) and in your hip. Turn over and repeat on the other leg.
Arthritis Exercises: Aqua
Also, if you have access to a pool, light aquatic aerobics or swimming is great. Your buoyancy in the water will help take the pressure off your joints and allow you to work on increasing your range of motion. The warmer the water the better. If the water seems cold to you, invest in a neoprene shorty weight suit. You can find them in a sporting goods store or dive shop. Here's is a short aqua video that you can use to get started:
Of course always consult your doctor before beginning any exercise program.
For more info on at home exercise programs please visit www.mirabaiholland.com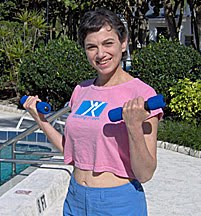 Arm flab exercises.
My inbox is trying to tell me something. I've gotten several versions of this question in the past week alone.
Q: I'm starting to feel that flabby arm anxiety again as it gets hotter. I don't want to face my sleeveless blouses with these 54 old arms a year flabbier than they were last year. Is there anything short of surgery for me to do? Are there any arm flab exercises I can do to firm me up?
A: Sedentary women in general and women at a certain age in particularly are faced with this problem every Summer. And it does get worst, as you get older.
In fact we can lose up to 40% of our muscle cells by the time we hit 70. This is called sarcopenia. When we lose muscle mass what's left over is flab. Weight resistance exercise can reverse this process and can help you regain some muscle you have lost.
Here are two easy arm flab exercises that target those problem areas in your upper arm.
Arm Flab Exercises
Bicep Curl for the Front Arm: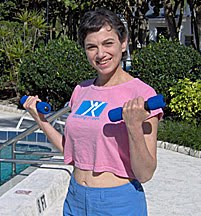 Grab a set up hand weights and stand erect with your feet about shoulder width apart. Weights down at your sides, palms forward. Remaining erect, bending only at your elbows bring the weights up towards you until they reach your shoulders.
Slowly return to starting position. Repeat 8-15 reps.
Pick a weight that will just barely allow you to complete the final rep in good form.
Triceps Extension for the Back of the Arm: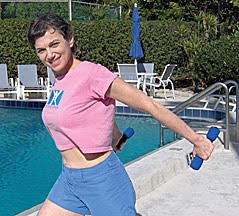 You will probably need a lighter weight for this exercise because those muscles are often weaker.
Stand erect, weights at your sides, palms in towards your thighs. Remaining erect step forward with one foot and slightly bend the knee. Keeping arms straight, bring both arms behind you just at or above waist height. You should feel the contraction on the back of your arms. Gently lower down to starting position.
Repeat 8-15 reps.
Do these arm flab exercises every other day. You should expect some soreness. It's common when you are building muscle. Doing the exercises every other day gives your muscles a chance to recover and grow. You should see results in about 3-4
weeks.
For more arm fab exercises visit www.mirabaiholland.com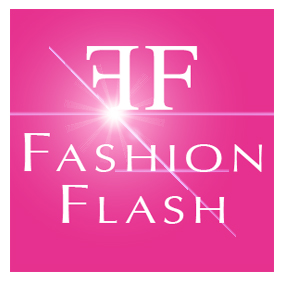 It's Fashion Flash Monday and our host today is Jackie from AgingBackwards.
Jackie emanates beauty and vitality. She shares her anti-aging natural secrets and tips with all of us women over 40. She is the real deal when it comes to fabulous!
This week the rest of us Fashion Flash bloggers give you a variety of ways to stay cool, be beautiful, healthy and on trend. Check us out!