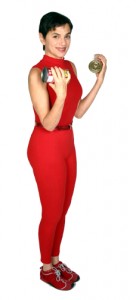 As for me, I've been shopping, sneaker shopping, after a couple of emails asking me how to pick out athletic shoes.  I've responded to sneaker stimuli, bought myself some new ones and shared my formula for sneaker shopping and how to pick yours. I believe in specialty stores. The stock is more current, the staff is more knowledgeable and the overall experience makes you want to strap them on and move. The only thing that urks me a little is once in awhile I get hooked with a my way or the highway salesperson. Don't listen to those people unless you REALLY agree with them. It's all about the fit and the feel. If that don't fit great, feel great and look great in the store instantly, keep looking.
Sneaker Shopping
I went into the store looking for cross training shoes. They had lots but none that felt good on me. While waiting for the salesperson to come back out,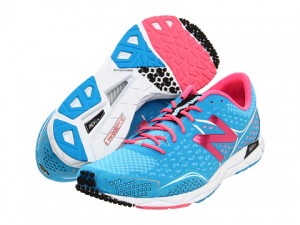 I wandered around the store and spotted these adorable blue runners. I have a lot of running shoes but these appealed to my inner fashionista. I picked one up and it weighed nothing. I ran it through the twist and squeeze test hoping it would give me good support. It's scary how well they can make lightweight runners these days. I asked to try them on. As I waited for my pair I couldn't help thinking please let them fit. Please let them feel good. They're so cute, please let them be functional. They go so well with my new outfit. When they came out, I admonished my fashionista self. "If they're not perfect, don't buy them. You'll never wear them." As fate would have it, they fit like a glove and I whipped out my credit card.
"I'll wear them", I told the clerk. For more info on sneaker shopping and how to select yours check out my post
Here's hoping you have the same experience soon so you won't have to sneak around in those old grubbies.
Get more women health and fitness info here
EASE IN, BECOME MOBILE, GET STRONG, LIVE LONG!  

To View All Products: Click Here  

Stay Active Indoors
Well it's still February and probably the colder weather is making it harder to get outside and exercise. Instead you may just want to curl up and sip something warm.
Here are some exercise tips to help you stay active indoors on those days when the weather doesn't cooperate.
· Exercise with a friend or family member. Supporting each other's efforts helps keep you on track. One of my students loves to go mall walking with her friend in the early morning at speed and then coming back later for some retail therapy.
· Exercise Videos. Not free, but affordable, I suggest you get at least one Video for each of the major components of fitness, aerobic/cardio, strength training, and stretching/flexibility. You can buy them online as DVD's or download them on sites like Amazon's Instant Video and play them on your computer, I-Pad or Smart TV. There are literally thousands to choose from and you can buy conveniently online.
· Make sure your instructor is certified by a nationally recognized certifying body like ACSM (American College of Sports Medicine), ACE (American Council on Exercise), or AFAA, (Aerobics and Fitness Association of America) Try to find an instructor that shares your approach to fitness. Many websites offer free clips so you can get an idea of what you're getting before you buy. Often the best deals are 3 or 4 packs. So shop around.
· Local health clubs and community centers are offering great specials these days. Check out monthly, seasonal and yearly memberships. Or, you might want to sign up for a class or two a week.
If nothing else, exercise will lift your spirits and keep you active so when the weather gets warmer you will be in better shape to take advantage of the great outdoors.
"Ease-in, build up, get strong, and live long."20% OFF ALL SPRING TO ACTION EXERCISE VIDEO AND EQUIPMENT SETS PUT FABFEB28 AT CHECKOUT!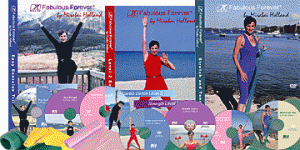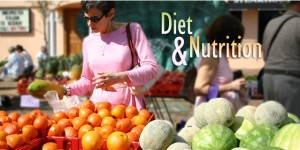 Ready to test your Fabulous Forever Health IQ?
As we are into a new year, it's time to remind ourselves to be vigilant about our health and fitness. Test your Fabulous Forever health IQ with this at home quiz. Answers are at the end.
For more info on women health and fitness and at home exercise programs come and visit me at www.mirabaiholland.com
Any questions contact me at askmirabai@movingfree.com
Fabulous Forever Health  I.Q. Test Yourself Now!
Fabulous Forever Health IQ Self-Quiz
(answers at end)
1. What is the number one killer disease of women?
a. Osteoporosis
b. Breast Cancer
c. Heart Disease
d. Diabetes
2. What does osteopenia mean?
a. Low muscle mass
b. Low bone mass
c. Another word for osteoporosis
d. Strong bones
3. What is the normal % of body fat?
a. 15-20%
b. 22-30%
c. 25-35%
d. 30-35%
4. Which one of the following blood pressure readings is considered a risk factor for heart disease?
a. 110/70
b. 115/80
c. 120/80
d. 140/90
5.What helps to pick up metabolism?
a. Lean muscle mass
b. 1000 calorie a day diet
c. Sleeping 8 hours a night
d. Meditation
6. How much body fat does the average 65 year old woman have?
a. 30%
b. 37%
c. 43%
d. 50%
7. What is sarcopenia?
a. high muscle mass
b. low bone mass
c. high bone mass
d. low muscle mass
8. What is interval training best for:
a. Picking up the metabolic rate
b. Adding variety to your routine
c. Making it easy to get a drink of water
d. Both a & b
9. An optimal program for older people would include activities to improve:
a. strength, flexibility and coordination
b. eyesight
c. digestion
d. jogging
10. What body shape is the one that puts you at less risk for both heart disease and breast cancer?
a. apple
b. pear
c. banana
d. pineapple
11. To be at less risk for heart disease your total cholesterol should be:
a. Above 200
b. Below 200
c. Between 200-220
d. Between 220-225
12. Which is the "good" cholesterol
a. HDL
b. LDL
c. NDL
d. Margarine
13. How much exercise should you do?
a. At least 3-4 times a week, 30 minutes at 60-90% max heart rate.
b. At least twice a week, 60 minutes at 70-90% max heart rate
c. At least once a week, 60 minutes at 80-85% max heart rate
d. At least twice a week, 30 minutes at 70-90% max heart rate
14. What is the equation of finding your target heart rate?
a. 220-age x %
b. 200-age x %
c. 220 x age – %
d. 200 x age – %
15. What does aerobic exercise do?
a. Helps to stimulate metabolism and reduce LDL
b. Helps to develop stronger abdominals and back muscles
c. Helps to build a stronger heart muscle
d. a & c
16. What are the risk factors for heart disease that you can control:
a. Family history, age, menopause
b. Inactivity, excessive alcohol, and high blood pressure
c. Smoking, high cholesterol and triglycerides
d. b & c
17. How often should you weight train?
a. Every day
b. 3 days in a row, 2 days rest
c. 2-3 times a week, alternating days
d. None of the above.
18. How often should you perform a Breast Self-Examination?
a. every other week
b. Once a month (if still menstruating best time a week after the start of your period)
c. Once every week
d. None of the above.
19. When should you start getting annual mammograms?
a. After age 40
b. After age 45
c. After age 50
d. After age 55
20. What are the best types of exercise if you have had breast cancer?
a. Light strengthening and stretching exercises.
b. Walking and swimming.
c. High intensity strength training
d. a & b
21. 54 million Americans at risk for Osteoporosis; what % are women?
a. 60%
b. 70%
c. 80%
d. 90%
22. By the time women are 70 they can lose up to
a.15% bone mass
b. 20% bone mass
c. 30 % bone mass
d. 45% bone mass
23. As a woman goes through menopause what is the main factor that causes bone loss?
a. loss of estrogen
b. fatigue
c. hot flashes
d. light headed
24.What are the 3 areas at most risk for osteoporotic fracture?
a. Spine, neck, foot
b. Hip, shoulder, foot
c. Spine, hip, wrist
d. None of the above.
25. What type of exercise is not particularly effective for loading your bones
a. Weight training
b. Walking
c. Swimming
d. Jogging
ANSWERS: 1. c, 2. b, 3. b, 4. d, 5. a, 6. c, 7. d, 8. d, 9. a, 10. a,11. b, 12. a, 13. a, 14. a, 15. d, 16. d, 17. c, 18. b, 19. a, 20. d, 21. c, 22. c, 23. a, 24. c, 25. c
Feel free to share  your Fabulous Forever Health IQ.