Can Sleeping Less Equal Weight Gain
Eating fewer calories, exercising more and still having a hard time getting those extra pounds off? Here's a question for you: How's your sleep?
I for one, every time I travel, seem to gain a couple of pounds just when I want to look my best.
I noticed that I tend to sleep less and intermittently when I am on the road. Once I settle again in a place, my sleep gets more regulated and I am able to drop those pounds.
I've adjusted my sleep pattern, as I have gotten older to help myself sleep better. The earlier I get up in the morning the better chance I have of getting to sleep that night and staying asleep for a longer period of time. I'm more energized, and when I eat, I eat less and feel more filled.
Can Sleeping Less Equal Weight Gain
It turns out that there are many studies that indicate that sleeping less then 7 hours can increase body weight. One recent study with several pairs of twins, found that the twin who slept more than 9 hours was about half as likely to gain weight as the one that slept only 7.
Sleep deprivation affects your hunger urge. If you sleep less, you feel like eating more and you probably do. That's because not sleeping increases your body's level of gherlin, the hunger hormone and decreases leptin the "I'm full" hormone.
A sleep study in Finland with middle-aged adults who had sleep problems found that women had greater sleep related weight gains than men. Though men were also affected. The study indicated that it seems the fewer hours you sleep the more calories you tend to eat the next day.
If you want a good night sleep here's are some things to consider:
Exercise: Don't exercise too late in the day. So many of us go to the gym after work but it can keep you up at night. Late exercise can prevent the body from making sleep-inducing melatonin for several hours.
Caffeine: It can take 6 or more hours to wear off. Having that cup of coffee after dinner, even with a low fat dessert, may not be such a good idea.
Alcohol: A couple of drinks with dinner can wake you up in the middle of the night and make it hard to get back to sleep. I have a friend who swears by a glass or two of wine at lunch but never alcohol after 2pm. She says she sleeps like a baby at night. I think if I had a glass or two at lunch, I'd sleep like a baby at 2pm and be up for the night at 5.
Stress: And then there is our old buddy stress. We all have some level of stress and how we deal with it can keep us up at night. Getting yourself relaxed in quiet, dark, temperature controlled environment can relieve stress and induce a desire and ability to sleep.
So what's it going to be, wide awake at 3am or getting that beauty sleep and waking up lighter and brighter on your toes? Learning to get a good night's sleep is a process.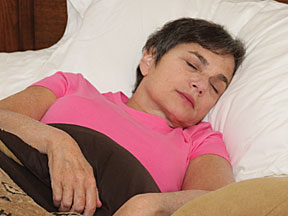 Don't stress over it, it may keep you up at night.
GET STRONG, LIVE LONG! SHOP NOW GET 20% OFF MIRABAI'S DVDS PUT CODE: SUMMERFAB CLICK HERE
Follow Mirabai Holland: 
www.youtube.com/movingfreedvds
And for more info visit http://www.mirabaiholland.com
For more info on at home health and fitness programs please visit www.mirabaiholland.com

Vitamin D Benefits all of us.
Vitamin D Benefits
It's the sunshine vitamin you absorb through your skin when you're outdoors.
It helps stabilize our mood. That's why people in northern climates with less sunlight get SAD, Seasonal Depressive Syndrome, those winter blues.

·

It works with other chemicals in your body to help keep your immune system healthy.
Vitamin D helps your body absorb calcium, and important element in building and maintaining bone mass.
And preliminary scientific evidence points to Vitamin D as a sports performance aid.
A 2009 study with adolescent girls at the University of Manchester, England found that the girls with higher levels of vitamin D had better muscle performance and speed than those with lower Vitamin D levels. It's also thought that exercise may increase your body's ability to absorb Vitamin D.
Anecdotal evidence shows sports performance appears to improve in the summer when people are exercising in the sun and Vitamin D levels would be highest.
There are 2 types of Vitamin D:
Vitamin D2 –the kind that's found in fortified food and supplements and Vitamin D3 the kind you absorb from sunlight.
Vitamin D Benefits: The Sports Vitamin?
Conventional wisdom was that Vitamin D3 was more effective, particularly when it came to your bones, than D2. But recent research at Boston University School of Medicine showed that effectiveness is about the same for both types
Because of our lifestyles, most people don't get enough Vitamin D from sunlight.
Even those who are outdoors a lot use sunscreen to prevent skin cancer and therefore don't absorb enough Vitamin D.
So, most of us need to eat Vitamin D rich foods like Eggs (particularly yolks), Liver, Mackerel, Tuna and Salmon or fortified foods, like milk, or orange juice, and Cereal, or take Vitamin D supplements to get the daily recommended adult dose. Women 50 and younger should get 1000 IU Daily and Women over 51 should get 1200 IU daily.
These are just general recommendations. Actual requirements vary from person to person. Check with your doctor.
Send your Moving Free® with Mirabai questions to: askmirabai@movingfree.com
GET STRONG, LIVE LONG! SHOP NOW GET 20% OFF MIRABAI'S DVDS PUT CODE: SUMMERFAB GOOD UNTIL 7/31/15 CLICK HERE 
Follow Mirabai Holland: 
www.youtube.com/movingfreedvds
www.youtube.com/movingfreedvds
For more info on at home health and fitness programs please visit www.mirabaiholland.com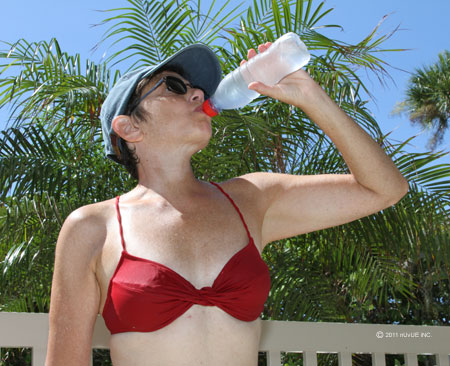 Drinking enough water should have been the first thing on my mind because I was shooting an exercise video on the beach in 90-degree heat. I got on a roll and forgot about the time. Less than an hour in I started to swoon. Not a good shot on a fitness video.  I realized immediately what had happened; I got so involved I forgot to drink water between takes. Dehydration causes so many summer exercise accidents because it creeps up on you just like it did me. So here's my take on drinking enough water to keep yourself water safe in summer.
Drinking Enough Water
Our bodies are about 60 % water, and that water plays a role in just about every bodily function. We could go a month without food but we can only live a few days without water.
If you exercise outdoors, you may notice that as the weather gets hotter you have trouble keeping up your usual pace.  Actually your body is telling you to slow down and you need to listen!  Water helps to deliver oxygen to your muscles and prevents your cardiovascular system from becoming over-taxed.
It takes about 2 weeks to get used to exercising briskly in warmer weather. You need to acclimate slowly to higher temperatures. Here are a few pointers to help you do that.
When you exercise in the heat you can lose up to five cups of water per hour. So it's important to drink water before, during, and after vigorous exercise. The rule of thumb is to drink 2 cups of water a couple of hours before you start exercising so you are fully hydrated. Then a cup of water every 15 minutes or so while you are exercising. Don't wait till you're thirsty. If you're thirsty, you're already dehydrated. Remember to bring that water bottle with you!
But you're not done yet. You need to drink another 2 cups over a two-hour period after exercise.
Sounds like a lot of water. It's not. It's just making up for the water you lose when you exercise in the heat.
Give yourself a break. Try exercising if you can when it's cooler, early mornings or late afternoons when the sun is less direct. Try finding shady areas.
Instead of keeping up your brisk pace for the whole workout, break it up.  Go at normal pace for a bit, do a short light interval and then pick up your speed again.
Wear light colored, comfortable fitting clothes. Avoid tightly woven fabrics that don't breathe. And don't forget the sports sunscreen.

GET STRONG, LIVE LONG! SHOP NOW GET 20% OFF MIRABAI'S DVDS PUT CODE: SUMMERFAB CLICK HERE
GOOD UNTIL JUNE 30, 2015
For more health and fitness info and in home exercise videos please visit www.mirabaiholland.com 
Related articles