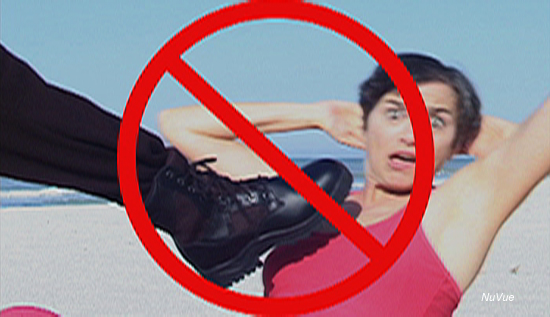 It's Spring again and I've been getting those emails for a month or so asking for advice on how to get on and stay on an exercise program. I get questions about commitment, pushing one's limits, pain, and quick results. I go a little crazy at this time of year because I'm at odds with a very vocal segment of my industry about how to get started on an exercise program. They're sincere, well-educated trainers, but I don't think they remember what it felt like to be de-conditioned. They expect beginners to do to much too soon. I'm beginning to think that over-vigorous exercise dulls one's sense of empathy.
I've seen it time and time again: determined beginners pushing so hard and either getting hurt and quitting or just quitting because they couldn't take it any more. If this sounds like you, don't feel bad. It's not your fault. We've heard no pain no gain all our lives. We've watched contestants push themselves to the brink of disaster on television. We're inundated with infomercial promises of big results in no time. It's enough to make anyone think " I've got to beat myself senseless immediately so I can hurry up, get fit, have the body of my dreams and live happily ever-after."
By the way, I'm not against vigorous exercise. On the contrary, I love vigorous exercise. But I wouldn't have loved it nor would I have been safe doing it as a beginner. In my experience, that approach only works for a few stoic types and sets the rest of us up to fail.
I believe in moderation, easing in, starting with a little and building up to a lot, staying in your comfort zone. You may get to super-vigorous exercise eventually, or maybe you'll like moderate exercise better. And moderate may be just as good as vigorous, maybe better. Really.
Just so you know this isn't some favorite rant of mine, there are people, scientists even, who actually agree with me. Here's study conducted at the University of South Carolina Arnold School of Public Health

I think, the best way to get fit and make exercise a part of your life forever is to keep it pleasant. If you haven't been exercising in a long time, don't start lifting weights right away. Don't try to jog or even walk for a half an hour right away. Do something easy. Do something pleasant. If you enjoy it today you'll want to get up and do it again tomorrow. It's the pleasure principal. I believe in it. This study published in the Journal of Health Psychology believes it, too
So, how do you get started? I suggest starting by standing up and doing about five minutes of gentle limbering movements. Do the same for a few days in a row. You may be surprised at how good this feels and what a wonderful state of mind these simple, natural movements put you in. You may find yourself exercising longer than five minutes after a few days because you like it. Don't question it. Simply do it. You may find the more you do it the more you'll want to do it, and the more you'll do.
You may want to go for a little walk, then a brisk walk, then a half hour brisk walk. Don't rush it. It doesn't matter if it takes a couple of weeks, or a couple of months. Listen to you body. You're on nobody's schedule but your own.
Once you're enjoying a half hour brisk walk most days of the week, try adding light weight training for your major muscle groups a couple of times a week. Increase the weight, number of reps and number of exercise days only when it feels too easy. Build up slowly to weight training about three days a week with a day off in between sessions.
Remember to keep it pleasant. If it's too intense, it ceases to be fun and there's a good chance you'll quit. This approach takes longer. But I've found it to be much more sustainable than those quick fix pump you up methods. Most of those intense immersion exercise programs remind me of the guy who beats his head against a brick wall. When asked why on earth he does that, he says: "because it feels so good when I stop"
Ease-in. Invest in your body. It will pay you back in quality of life.
…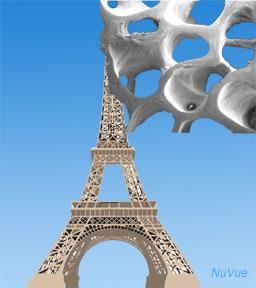 Each May, Osteoporosis Awareness Month, I devote my column to bone health. I first became interested in bones as a young dancer (about 200,000 years ago, in the Mid Paleolithic era). I was studying body alignment and I became fascinated with the skeleton and the remarkable living tissue that makes up our bones. I was intrigued by the intricate architectural structure of bone.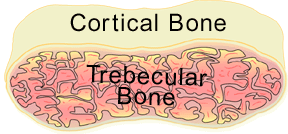 There's the smooth, hard shell we see on the outside called cortical bone, and the amazing crisscrossed, honeycomb like structure on the inside called trabecular bone. The combination of cortical and trabecular bone make our skeletons, strong, light, flexible and efficient.
The structure of trabecular bone is the secret ingredient. The trabecular bracing structure is located at precisely the correct angles to absorb the maximum force.
So when you jump over a puddle or run for a bus, it's the trabecular bracing that directs the force to the strongest part of your skeleton and prevents a bone from breaking.
Most of us aren't aware of our beautiful bone structure. But, it hasn't gone unnoticed or unutilized.
The structure of trabecular bone was copied by the French bridge builder Gustave Eiffel, who wanted to build the tallest man-made structure in the world. When he built the Eiffel tower in 1889, he calculated the positioning of the braces in the curves of the legs to direct any force like high winds on the entire structure to the strongest area; the four legs. This is why the Eiffel tower continues to stand the test of time.
That's fine for an iron tower. If part of it becomes weakened you can see it and fix it. But what happens to weakened or damaged areas of our skeletons?
I was astonished to find out that bones are pretty smart. They don't grow to adult size and then stop.

Our skeletons are constantly getting rid of old weakened bone tissue and replacing it with new healthy bone.

In a process called remodeling, old weakened areas are broken down and replaced with new well-formed tissue. Our bodies replace about 10 percent of our bone each year.

In bones with osteoporosis, the remodeling process has gotten out of whack.Those sturdy crisscrossed structures disappear and bones get weak and start to fracture. Fractures occur most often where there is the most trabecular bone.
The three areas most at risk for osteoporotic fracture are the spine has the most trabecular bone. So, if you have osteoporosis, the vertebrae start to squash under the weight of the torso. The thighbone at the hip is next. It can break just stepping off a curb. And the wrist will likely break if you put out your hands to catch yourself in a fall.
But there's a lot you can do to prevent osteoporosis and maintain bone health. Weight bearing exercise like walking, jogging, aerobic dance and weight resistance training, stimulate the remodeling process and promote bone growth.
Exercise should be site specific. Do weight bearing and resistance exercises for the whole body but pay special attention to the areas most at risk; the spine, the hip and the wrist. Calcium and Vitamin D are also important. Here's a link to the current National Osteoporosis Foundation guidelines. 
Remember your bones are living tissue. Take care of them and they'll take care of you.
For more information on exercise for osteoporosis please visit my website
It's time to jump start your exercise program. You can enjoy the weather while you get into shape.
Here are five easy exercises to tone you up; no equipment necessary. Try doing them every other day. For the first three start with eight reps and build up to 16. For the last two (isometric exercises) hold for 10 seconds and build up to 30 seconds. With all these exercises, remember to exhale on the exertion.
In a matter of a few weeks you should feel your body getting stronger and see it get shapelier.
Warm-up by taking a 10-minute walk. By the tenth minute, it should be brisk enough for you to just barely carry on a conversation.
Stop at a wall, a tree or a fence, and do these five exercises: two for your upper body and three for your lower.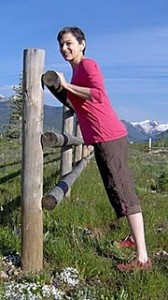 Standing Push-ups:
Stand facing a surface, with legs hip width apart and place hands shoulder width apart. Keeping your body straight, lower yourself down to the surface and then push back upright again.  Muscles Worked: Chest, Triceps, and Shoulders
Send your questions to askmirabai@movingfree.com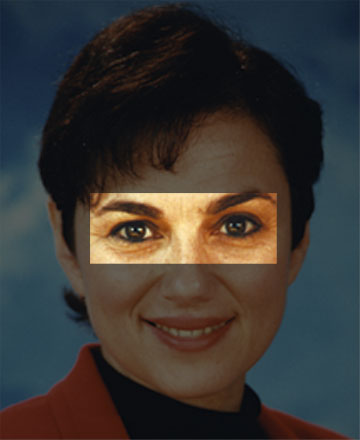 Is your vision putting you at risk for a deadly fall? The answer may surprise you. Falls are a leading cause of death in older adults.
Do you really want to go out with that kind of a bang? Not being able to distinguish, or maybe just being less likely to notice a hazard that causes a fall, is a problem that sneaks up on you.
 The quality of our vision diminishes with age slowly, and often goes unnoticed; or we may just rationalize symptoms away.
Starting at around 40 the lenses in our eyes become less elastic making it hard to focus up close. We eventually admit it and fix the problem with reading glasses. But that's just the beginning. By around 50 we may think there's not enough light in a room, or daylight conditions are immediately too bright when we go outside. In fact our pupils have gotten smaller, and our ability to adjust to changing light has slowed with age. So we require more light indoors, and transitions from dim to bright conditions become more difficult. We don't usually think of aging eyesight as the cause. It's easy to shrug off.
As we get older and contrast perception diminishes, making it harder to perceive stairs, curbs and other dangers, we blame shadows or glare. And worsening vision throws off our balance and proprioception (knowing where our bodies are in space). Combine imperfect vision with age related orthopedic issues and we're set up for a life altering or life-ending event.
Most of the time, the vision problem is easily corrected with a visit to an ophthalmologist and prescription for glasses. And if you do have a more serious issue, it can be detected and treated before vision loss occurs or gets worse. But remember, it sneaks up on you. So get a checkup even if you don't think you need one.
I've gotten a cluster of emails lately asking about these three issues. So I thought I'd share the questions and the answers.
Q: I've recently hurt my right shoulder. My doctor said it was a rotator cuff injury. I went through physical therapy but my shoulder still hurts sometimes. My doctor wants me to do some post-rehab exercise to continue to rebuild the muscles. What exercises can I do at home? And are there any exercises I should avoid?
A: Rotator cuff injuries can take a long time to heal.  While your shoulder still hurts don't do any movements higher than shoulder level. Check with your doctor first. But  here's a classic exercise to help strengthen that area. Its called external rotation.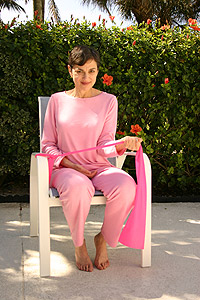 Get a resistance band and sit in a chair with arms. Tie one end of the band to the left arm of the chair.  Sit up straight feet shoulder width apart. Hold your right arm in front of you, bent at 90 a degree angle, palm up. Grab the band in about the middle. Keep your elbow close to your side but not touching. Pull the band laterally away from your body while exhaling. Hold for 5 seconds and gently release. Start with 1or 2 and build up to 6-8 repetitions over a couple of weeks.
If you don't have a resistance band, use a towel or scarf.
Q:I've never had a great sense of balance and it seems to be getting worse as I get older. What exercises can I do to improve my balance.
A:Loss of balance is quite common as we age.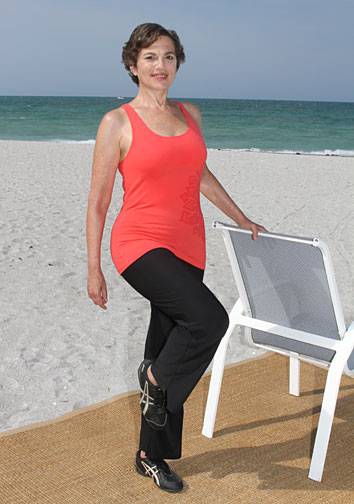 Stand with your heels touching, feet turned out. Slowly pick up one leg and place the sole of your foot against your opposite calf or knee. Holding on to a wall, slowly bring your other arm out and over your head. When you feel ready, let go and bring the other arm up. Hold for about 10 seconds (or as long as you can).
When it gets too easy, try doing it with your eyes closed.
Q: I wake up in the middle of the night and I have trouble getting back to sleep. I worry about everything, my finances, my kids careers, my golf game. I've tried the usual get back to sleep stuff and its not working. I don't want to take drugs. Any ideas?
Stress kills. And it's also one of the main contributors to aging. We're getting old fast enough. Don't accelerate the process.
Here's an ancient exercise that can help you get back to sleep and slow down your aging clock at the same time.
Close your eyes, and focus on your breath. Watch the ebb and flow of your own breathing pattern. As thoughts come in, let them come in but don't hold on to them, let them flow out. Continue to focus on your breathing, in and out.
As you become more relaxed, you will be able to take slower and deeper breaths. This will allow you to clear your mind of thoughts. You won't even notice when you fall asleep.
Send your Ask Mirabai questions to: askmirabai@movingfree.com
There are over 20 million golfers in the United States alone. And those who play frequently, including the pros, are often plagued by over-use injuries.
It's the repetitive motion of the golf swing that's the culprit. And if your form is less than perfect you can hurt yourself on a single swing.
It uses the same muscles every time: mainly shoulder (rotator cuff) core (side of the waist, abdominals), and arms (elbow, forearm and wrist)
Also, like any other physical activity, it's good to warm-up your body at least 5-10 minutes before starting to play. A brisk walk, a few arm circles and practice swings with a towel will help to elevate your body temperature, lubricate joints and increase blood flow to your working muscles.
As for the current aches and pains, you probably have to rest those muscles until they heal.
The good news is, there are Prehab exercises to help you play injury-free in the future and they will also help improve your game.
Here are some essential exercises.
Towel warm-up
Roll up a towel lengthwise and take a few practice swings to warm-up the muscles you'll use when you add the weight of the club.
Side Bend
If you have hand weights, great. Otherwise, grab some cans from your pantry.
Stand feet shoulder width apart, knees slightly bent, arms at your sides. Without bending forward or back, bend directly to one side, while sliding the weight in your opposite hand up the side of your body to your armpit. Do the same on the other side. 8-12 reps on each side, alternating side to side. Areas Worked: Side of the Waist
Core Strength & Stretch

Start on your hands and knees in a tabletop position.
Gently stretch your right arm out in front of you till it's level with your torso. At the same time raise your left leg and straighten it behind you. Hold for 10-20 counts and slowly return to starting position. Switch sides and repeat. Areas Worked: Abdominals, shoulder, hip and back of leg
Oblique Twist
Lie down, knees bent, feet hip width apart. Place your hands behind your head.
Lift and turn your torso to point your right elbow towards your left knee (keep your elbow back in line with your shoulder) and return to start. Do 8 reps. Switch sides and repeat. Areas Worked: Abdominals, particularly the side abs.
Rotator Cuff
Holding cans or hand weights bend arms at the elbows to 90 degrees in front of you. Keep your elbows bent and bring your arms out to your sides.
Repeat 8-12 reps.
Areas Worked: Shoulders
Wrist Curls

Hold hand weights at your sides, elbows at 90-degree angles, palms down. Keep arms stationary, and using only your wrists, slowly curl the weights towards you until your knuckles are facing the ceiling. Repeat 8-15 reps
Flip weights palms up. Do 8-15 reps in this position.
Areas Worked: Forearms and wrists.
Diamond Stretch
Raise arms over-head, linking hands together. Slightly bend elbows and gently move them back.
Hold for 10-20 counts.
Areas worked: Shoulders, chest and upper back.
Send your Moving Free® with Mirabai questions to: exercise@movingfree.com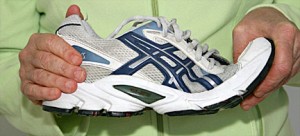 Ok the buds are budding again, the coats are off and its time to take it back outside. Need a new pair of sneakers? You're not alone. This time of year I get lots of emails saying, "What kind of athletic shoes should I buy for walking or jogging outside? "
There's no one answer. There are just about as many shoes about there as there are feet. Yours are unique, but one rule applies to all.
Sneakers need to feel great right out of the box. No break-in!  They also need to be sport specific. Stick with a shoe that's designed for your particular activity.
So how do you pick a shoe? Ask your feet.
Check out the regular shoes you have at home. Where are they worn down?
If they're worn on the inside edge you have low arches and point your feet inward. Try athletic shoes with good arch support.
If your shoes wear on the outside you point your feet outward. You need a shoe with more cushioning and good lateral support.
If you have even wear on your heels, you walk and run with your feet mostly straight ahead. You can buy any quality shoe that feels good on your foot.
What is a quality shoe anyway?
Heel box needs to be on the stiff side and comfortably keep your heel from popping out
The toe box needs to flex but not so much as to let your foot twist. Your big toe shouldn't hit the front of the shoe
The upper needs to surround your foot and give it the amount of comfortable support your particular foot needs
The shoe should have enough cushioning to absorb impact but not so much as to make it unstable
You should be able to get a good pair for under a hundred bucks
But what about toning shoes?
The principle behind these is that the design of the shoe's sole keeps you off balance; and because you're always working to keep your balance, you work harder, burn more calories, use your muscles more and therefore get a better workout and a more toned body.
I can't speak first hand about these because I've never worn a pair.  But I do have a close friend who swears by them.   Her enthusiasm peaked my curiosity and got me Goggling.  I found a study by the American Council on Exercise. This is the non-profit organization that tests and certifies fitness instructors throughout the US. They tested all the major brands of toning shoes against regular athletic shoes.
Their study found no significant difference between the Toning shoes and the regular shoes. Here's a link to the study.
The bottom line is there is no silver bullet. A lot of this is trial and error.  It's all about the fit; and if the shoe fits, it will be a treat for your feet when you wear it.
You can contact Mirabai at: askmirabai@movingfree.com

…