May is osteoporosis month and I can't say enough about this debilitating yet largely preventable bone disease.
By definition, osteoporosis is a disease that, over time, causes bones to become thinner, more porous and less able to support the body. Bones can become so thin that they break during normal, everyday activity.
I've written a number of articles about the importance of weight bearing exercise and a calcium and vitamin D rich diet in preventing osteoporosis. So today I'm focusing on FALL PREVENTION. So many osteoporotic fractures are caused by falls so anything that can prevent those falls should be on your radar.
An interesting fall prevention method that's been getting a lot of attention lately is using a Whole Body Vibration platform. Research by the Russian and American space programs has long suggested that a piezo-electric effect caused by vibrating the body strengthens muscles, and may prevent bone loss. A recent German study 'Erlangen Longitudinal Vibration Study (ELVIS) shows it can also greatly reduce falls.
You simply stand on the vibrating plate and shake for several minutes. How long and how vigorously you shake can be dialed to suit your personal body needs and fitness level.
Commercial versions of the vibration platform are available at gyms and rehab centers. Home versions are sold online and at sporting goods and health equipment stores. Prices for the home versions start at about $199.
And for traditionalist in all of us, it's true, simple balance exercises can go a long way towards reducing your chances of taking a serious fall.
Try this simple exercise:
Stand erect near a wall (in case you lose your balance) hands at your sides.
Slowly raise one foot a couple of inches off the ground while shifting your weight to your grounded foot.
When you've got your balance slowly raise your arms over your head and reach for the sky.
As you get more comfortable, try raising your held-up foot farther up until it's near the knee of your grounded leg.
*ELVIS STUDY: http://www.ncbi.nlm.nih.gov/pubmed/20306017
For More info on health and fitness visit www.mirabaiholland.com

Golf Fitness Workout!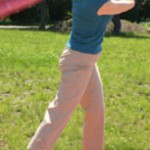 There are over 20 million golfers in the United States alone. And those who play frequently, including the pros, are often plagued by over-use injuries.
It's the repetitive motion of the golf swing that's the culprit. And if your form is less than perfect you can hurt yourself on a single swing.
It uses the same muscles every time: mainly shoulder (rotator cuff) core (side of the waist, abdominals), and arms (elbow, forearm and wrist)
Also, like any other physical activity, it's good to warm-up your body at least 5-10 minutes before starting to play. A brisk walk, a few arm circles and practice swings with a towel will help to elevate your body temperature, lubricate joints and increase blood flow to your working muscles.
As for the current aches and pains, you probably have to rest those muscles until they heal.
The good news is, there are Prehab exercises to help you play injury-free in the future and they will also help improve your game.
Goal Fitness Workout
Here are some essential exercises.
Towel warm-up
Roll up a towel lengthwise and take a few practice swings to warm-up the muscles you'll use when you add the weight of the club.
Side Bend
If you have hand weights, great. Otherwise, grab some cans from your pantry.
Stand feet shoulder width apart, knees slightly bent, arms at your sides. Without bending forward or back, bend directly to one side, while sliding the weight in your opposite hand up the side of your body to your armpit. Do the same on the other side. 8-12 reps on each side, alternating side to side. Areas Worked: Side of the Waist
Core Strength & Stretch

Start on your hands and knees in a tabletop position.
Gently stretch your right arm out in front of you till it's level with your torso. At the same time raise your left leg and straighten it behind you. Hold for 10-20 counts and slowly return to starting position. Switch sides and repeat. Areas Worked: Abdominals, shoulder, hip and back of leg
Oblique Twist
Lie down, knees bent, feet hip width apart. Place your hands behind your head.
Lift and turn your torso to point your right elbow towards your left knee (keep your elbow back in line with your shoulder) and return to start. Do 8 reps. Switch sides and repeat. Areas Worked: Abdominals, particularly the side abs.
Rotator Cuff
Holding cans or hand weights bend arms at the elbows to 90 degrees in front of you. Keep your elbows bent and bring your arms out to your sides.
Repeat 8-12 reps.
Areas Worked: Shoulders
Wrist Curls

Hold hand weights at your sides, elbows at 90-degree angles, palms down. Keep arms stationary, and using only your wrists, slowly curl the weights towards you until your knuckles are facing the ceiling. Repeat 8-15 reps
Flip weights palms up. Do 8-15 reps in this position.
Areas Worked: Forearms and wrists.
Diamond Stretch
Raise arms over-head, linking hands together. Slightly bend elbows and gently move them back.
Hold for 10-20 counts.
Areas worked: Shoulders, chest and upper back.
For more info on Mirabai Holland, Certified Health Coach and Exercise Physiologist please visit www.mirabaiholland.com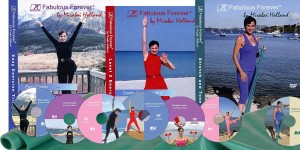 EASE IN, GET STRONG, LIVE LONG! SHOP NOW GET 20% OFF MIRABAI'S DVDS PUT CODE: GETFIT CLICK HERE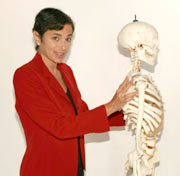 Skeletal Fitness is important throughout our lives.
Those of you who read my column regularly know that in May, Osteoporosis month, I always write about Osteoporosis and Skeletal Fitness.
With 12,000 boomers a day turning 65, that's one every 8 seconds for the next 18 years; and with 50% of women over the age of 50 projected to have an osteoporosis related fracture in their lifetime, I thought I'd be a little practical this year and give you a mini workout to help you protect your bones.
Skeletal Fitness
Our bones are living tissue and grow stronger with weight bearing and resistance exercise. This is called Bone Loading and can help us maintain our skeletal fitness.
And since the three areas most at risk for Osteoporotic fracture are the Spine, the Hip and the Wrist, here are 3 easy Bone Loading exercises, one for each of those areas, you can do using a pair of hand weights or a couple of soup cans. Use a weight that makes the exercise feel somewhat hard after 8 reps. Remember to always exhale on the exertion. Do 8-15 reps of each of these exercises. Start where you're comfortable and build up.
And of course always consult your doctor before beginning this Skeletal Fitness exerciseprogram.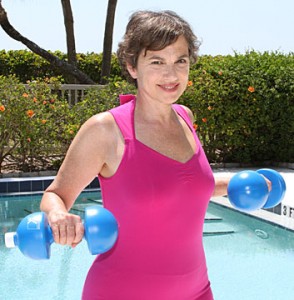 Double arm row: Loads Spine
Start with arms in front of you, weights together.
Slowly row arms back, bending elbows bringing weights to chest height.
Squeeze shoulder blades together, without shrugging your shoulders.
Lunge – Loads Hip and Femur (thigh bone)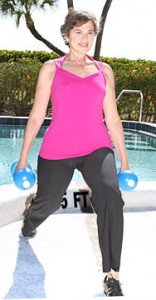 Stand tall, feet about shoulder width apart, hands and weights at your sides.
Keep body erect and lunge forward with left foot, bending both knees to help facilitate the move. (Right heel comes off the floor). Your front knee should be aligned over the second toe of that foot and your weight should be centered between your front and back foot.
Hold for 8 seconds, (remember to breathe) return to starting position and repeat lunging with right foot.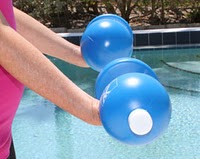 Wrist Curls
Hold arms in front of you palms up.
Using only your wrists, curl weights toward your body until knuckles are facing the ceiling.
The National Osteoporosis Foundation has a wealth of information on your bones and Osteoporosis on its website www.NOF.org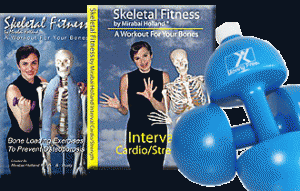 EASE IN, BECOME MOBILE, GET STRONG, LIVE LONG! 
SPRING INTO ACTION VIDEO & EXERCISE KIT SPECIALS
For more info on at home exercise programs visit www.mirabaiholland.com