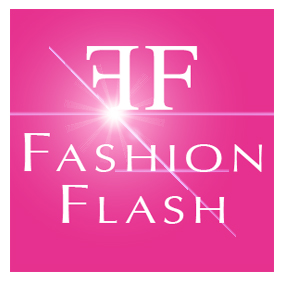 Fashion Flash is hosted this week by Josephine; founder of Chic at Any Age.
She says "Beauty starts from the inside and is expressed in the way we dress. Dress with passion and originality" Chic at Any Age gives you the info and insight, to do just that .
The rest of our Fashion Flash blog consortium has been hard at work too, scouring the Earth for 40 plus Fashion, Beauty, Health and Fitness, and Shopping secrets. Take a little break, join us and help us zero in on your wants and needs with your comments.
Chronic Stress: How To Get Rid Of It?
Posted by Mirabai Holland MFA on November 22, 2014
So what do we do about chronic stress? How do we get rid of it?
How? Relax. That's what my first yoga teacher used to say when I was all bent up in the pretzel pose with a grimace on my face. And, like that meditation you just did, it actually worked. Once I was able to relax, I was stress-free even in the pretzel pose.
Seriously, daily conscious relaxation exercises can make real difference in the way your body responds to stress. Dr Herbert Benson coined the phrase "relaxation response" in his book by the same name in 1975.
Since then he and others have conducted numerous studies, including a recent one at the Benson-Henry Institute for Mind/Body Medicine, that have detailed the body's intricate positive response to conscious relaxation exercises. In a nutshell, the relaxation response has the opposite effect of fight-or-flight. It engages the parasympathetic nervous system to counteract the effects of stress. You experience a feeling of deep relaxation and well being. And if you practice relaxation regularly you'll feel better and help yourself avoid those stress related health issues. That's how we get rid of chronic stress.
Here is a Mini Relaxation Video
Stress Management Chronic Stress Meditation Video Meditation Less Stress
More Living Breathing Exercises Stretching Exercises Breathing Exercises Stress Reduction Relaxation The Third Metric Emotional Wellness Stress Chronic Stress Tips The Third Metric D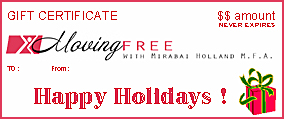 Holiday Gift Certificates from Mirabai Holland.com
 A Gift of Fitness Gives Forever. Your Gift Certificate is sent by email IT NEVER EXPIRES!
Holiday Gift Certificates from Mirabai Holland.com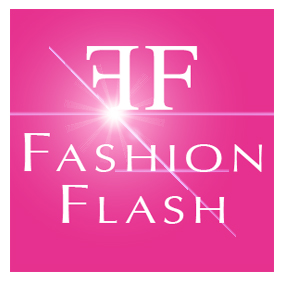 Women 40 Plus Beauty Expert Cindy, from Prime Beauty is our Fashion Flash Host today. Cindy the site's founder stays in touch with the latest breakthroughs, trends, tips and deals for Women 40 Plus.
The rest of us Fashion Flashers are getting you ready with holiday tips on Fashion, Fitness, Skin Care and just being Fabulous.
Women 40 Plus Health and Fitness
Holidays are coming and with holidays come holiday food and festivities.
As you can imagine, during these times I get a flood of emails, like the one below, asking me how to navigate through the holidays and prevent weight gain and inactivity.
Q: The holidays are coming and I have lost some weight but still need to lose 15 pounds more. I am doing aerobics three times a week and watching my calories but I am losing so slowly, I was wondering if there is any other type of exercise that could help me lose weight faster? I am really getting frustrated and I am almost ready to just give up. Frustrated
A: Dear Frustrated,
Try adding 2-3 days of weight training to the mix.
Studies show the winning formula is a combination of aerobic and weight training exercise. Moderate aerobic exercise burns calories while you are doing it and for a short time afterwards. Weight training burns calories too but it also increases your lean muscle mass. So as you add more muscle, you'll burn more calories all day long. Research from Tufts University found that after 12 weeks of weight training, total calorie burning increased by about 15 percent which for an average adult, could amount to an extra 240 to 400 calories a day.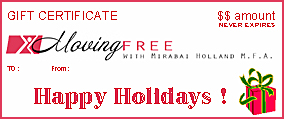 A GIFT OF FITNESS GIVES FOREVER!
MIRABAI HOLLAND GIFT CERTIFICATES NEVER EXPIRE!
FOR MIRABAI HOLLAND EXERCISE VIDEOS, FITNESS EQUIPMENT & T-SHIRTS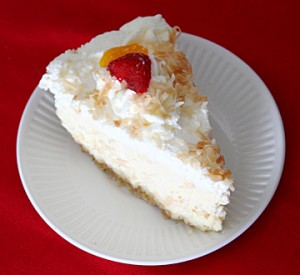 Can you really enjoy holiday treats without weight gain?
Well, when we think of the holidays the first thing that comes to mind is fear of weight gain. That's because we always have a few treats up our sleeves. And we do gain weight.
But, preventing this phenomenon is not as hard as you think. You don't have to starve, deny yourself favorite holiday dishes or do heavy-duty compensation workouts.
Enjoy Holiday Treats Without Weight Gain: Some Pointers
If you are the one cooking, you are more in control of what is going to be placed on the table.
So you can choose equally delicious lighter recipes. But, if you are visiting friends and family all bets are off and your radar needs to be on. It's all about portion control.
Don't wait till the second piece of pie gets offered. Pre-planning is key. In some cases you'll know from past experience what the menu will be. Even if you don't, assume there will be a barrage of excess temptations. Excess is the operative word. Enjoy but not to excess.
Whether you count calories, points, or eyeball your portions, eat half of what you think you should eat. If you are not sure of a particular food or treat, pass on it, or just take a bite to see if it is worth the calories. If you find yourself hungry after all of this, you can eat a little more or maybe you've actually saved room for that dessert.
You can visit, enjoy the company, make merry and have a smug sense of self-assurance that this whole season will pass without you gaining even a pound. Who knows, you might lose weight.
That brings me to your insurance policy. If you don't exercise regularly this is definitely the time to start and get a jump on your New Year, New You. If you do, make time for it. You don't have to do extra but don't make the excuse you're too busy at this time of year.
Cardio exercise is great calorie burner, and we all know that a half hour of moderate aerobic exercise a day can reduce one's chance of heart attack by a whopping 50%.
See how I snuck in my pitch for exercise? I am not suggesting anything that I don't do myself. It works for me and I bet it will work for you.
Give it a try and let me know what you think. And let me know if you were able to enjoy holiday treats without gaining weight.
Happy Holidays!